Relatives of martyrs have been protesting at Sêmalka for 34 days
For 34 days, relatives of the martyrs have been demanding at the northern Syrian border crossing Sêmalka that the bodies of fallen guerrilla fighters be handed over by South Kurdistan's ruling party KDP.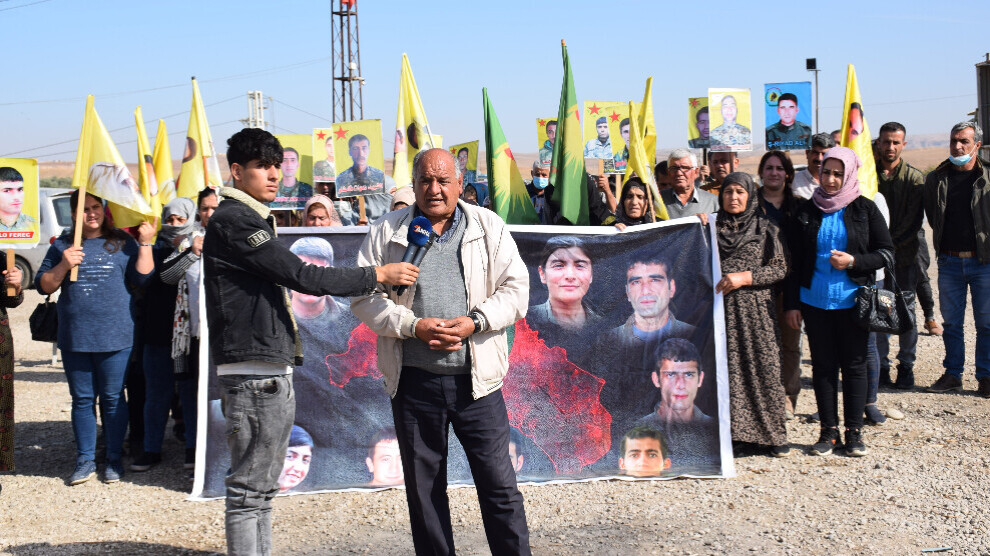 Five guerrillas were killed and two others injured in the Xelîfan region in South Kurdistan as a consequence of an ambush by armed forces linked with the Kurdistan Democratic Party (KDP), which is engaging in Turkey's activities against the Federal Kurdistan Region. Families of the two guerrillas from Rojava, Tolhildan Raman and Serdem Cudi who are among the five slain guerrillas, have since been trying to cross from North and East Syria to the Kurdistan Region through the Semalka Border Crossing to receive the bodies of their martyrs.
The mothers and relatives joining the protest action in a tent at Semelka border crossing for 34 days have repeatedly been denied entry to South Kurdistan by the KDP forces, and have been put off with false promises. The KDP had recently promised to hand over the bodies of the martyrs to the families, but so far nothing has happened. The women are determined to continue their protest action until they succeed.
Speaking at today's action, Martyr Serdem Cudi's cousin Yusif Remedan stated that they will continue their action until their demand to get the remains of their relatives is met. "Relatives of martyrs have the right to bury their dead in their land," he said.
Yusif Remedan called on the South Kurdistan government to break its silence and to give up betrayal that harms Kurdish unity.