Refugees in Heseke face tough winter as international organisations offer no help
International aid organisations are not supporting the refugee camps that the Autonomous Administration established for people who were forced to migrate from the occupied regions.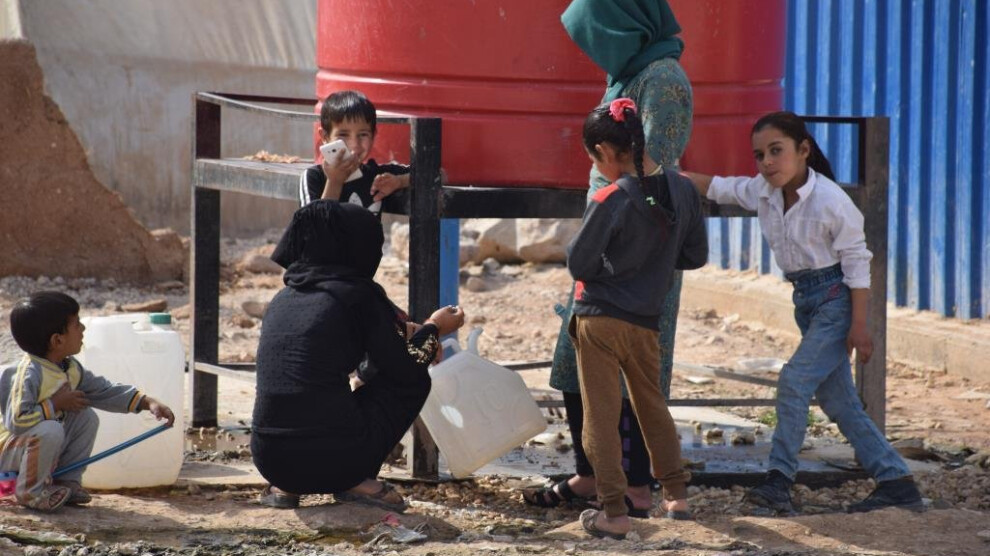 Citizens who were forced to migrate from their lands following the Turkish invasion of Serekaniye in 2019 have been going through hard times since then. The refugees are struggling in the various camps established by the Autonomous Administration of Northern and Eastern Syria. Despite the efforts of the Administration, the approaching winter is aggravating the already precarious conditions of the camps.
In Heseke, educational programs have almost come to a halt since over 80 schools were converted into centers to first welcome refugees. The Autonomous Administration is constantly working to establish new camps. Serekaniye Camp, which was established in the neighbourhood of El-Telae in the east of Heseke on 16 August 2020, hosts 11,895 refugees.
The Autonomous Administration also established Washukani Camp in November 2019 to host a further 15,000 refugees.
Displaced people living at camps in Northern and Eastern Syria spoke to ANHA.
'We have no heater'
Nalîn Izo, who was forced to leave Serekaniye and settled into Washukani Camp, mentioned various needs, especially tents for the winter. Izo said that tents are often very old and there is no heater. In addition, there is also a shortage of winter clothes.
International humanitarian aid organisations, which promised to support the refugees living in these camps, have not fulfilled their responsibilities. Izo said that humanitarian aid organisations only "provide some cleaning products. However, this is not enough for us. I once again appeal to them: support Serekaniye refugees."
 'We cannot survive the winter old tents'
Stating that they have lived in very old tents for two years, Helîma Sîno, a resident of Washukani Camp, added that they cannot survive the upcoming winter in these tents.
Mihemed Xider, another resident of Washukani Camp, said that humanitarian organisations provided no aid for the refugees and called on the international community to help the refugees.
Tents, blankets, winter clothes urgently needed
Berzan Ebdullah, one of the directors of Washukani Camp, said that international aid organisations have forgotten them. Calling on them, Ebdullah said that refugees need above all tents, blankets and winter clothes."
 'The United Nations does not meet the needs of refugees'
Şêxmûs Ehmed, manager of the Refugee and Migration Office of the Autonomous Administration, stressed that local organisations are looking after Serekaniye and Gire Spi camps despite their limited and inadequate resources. He also said that the Autonomous Administration of Northern and Eastern Syria could not meet the needs of refugees, despite its best efforts and added that the "closure of Til Koçer border gate has a major role in these adverse conditions."
He said that they had a meeting with the United Nations representatives by it was not as positive as they hoped.
Til Koçer Border Gate should be opened immediately
Ehmed said that international organisations at camps provide only psychological support, but this is not enough. He called for the Til Koçer border gate to be opened immediately.