Political parties call for support for the Autonomous Administration and SDF
Political parties met with the Autonomous Administration and called for support for it and the Syrian Democratic Forces.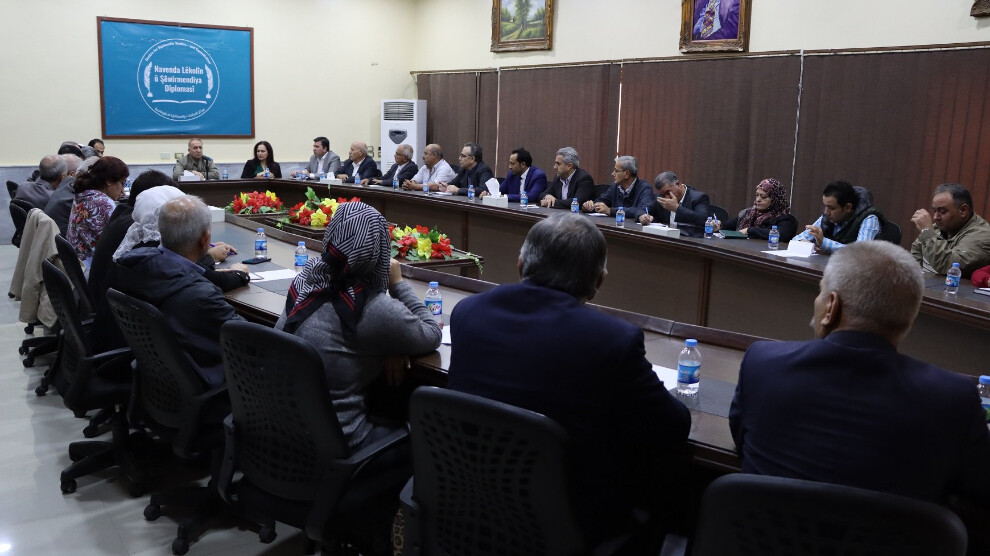 The Autonomous Administration of Northern and Eastern Syria came together with the political parties operating in the region. Service projects and political developments were evaluated at the meeting. Many political parties and organizations attended the meeting at the Diplomatic Research and Counseling Center in Qamishlo.
Bedran Çiya Kurd, deputy co-chair of the Northern and Eastern Syria Autonomous Administration Executive Council, Telat Yunis and Nezira Gewriyê, the co-chairs of the Jazira Region Democratic Autonomous Administration Executive Council, were also present at the meeting.
Speaking to ANHA, Telat Yunis said that the meeting was organised within the scope of strengthening contacts with political parties. He said that the main issue on the agenda was the ongoing invasion attacks carried out by the Turkish state against the region, and added that the political parties gave messages of support to the Autonomous Administration.
Yunis also said that the political parties evaluated the diplomatic work of the Syrian Democratic Council (MSD) and the Autonomous Administration, and added: "The political parties said that they are against any attack targeting the will of the peoples of the region. They underlined that they are ready to provide all kinds of support to the Autonomous Administration and the Syrian Democratic Force (SDF). They also added that they found the work in the diplomatic field successful, and suggested that this work should be strengthened and continued to be carried out." Yunis said that "economic and political developments in the region were also evaluated. The support given by the Autonomous Administration to economic projects was received positively. We listened to the criticisms and suggestions of political parties. In this regard, we will intensify our efforts to eliminate the deficiencies in the administration."