People of Shehba hold "March for Dignity"
In Shehba, a call was made for a joint struggle against betrayal at the end of the "Meşa Rûmete", "March for Dignity" where the Turkish state's invasion attacks against South Kurdistan and the cooperation of the KDP were protested.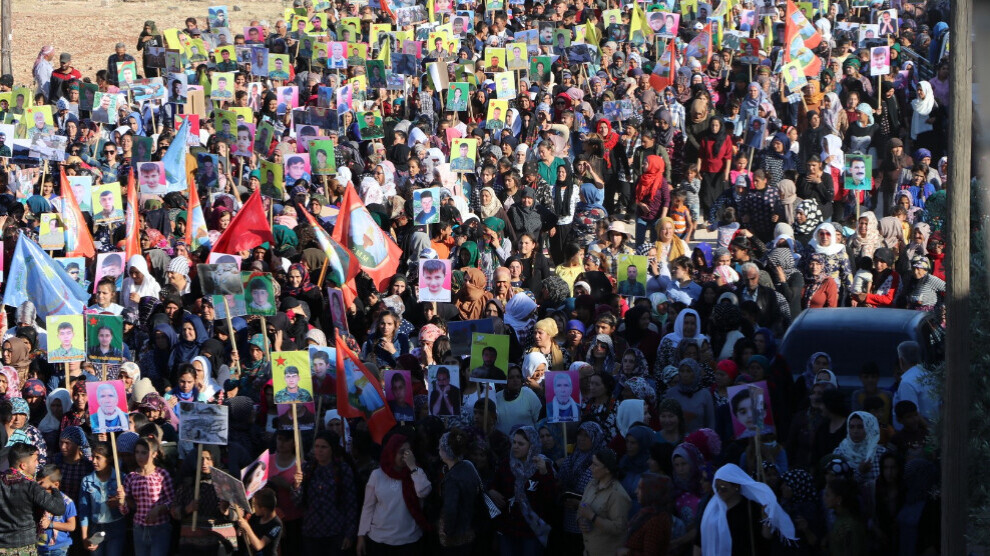 The "Meşa Rûmete", "March for Dignity", which was launched in Qamishlo on 10 June was replicated in the Euphrates region and Shehba.
Tens of thousands of people from all districts of Shehba, Til Rifat, Shera and Sherawa in Afrin joined the march which was held in Shehba.
The Martyrs' Families Assembly unfurled banners with the flags of Kongra Star and the photos of the martyrs of the Epochal Resistance.
The march, in which the slogan "Bijî berxwedana HPG" was often shouted, turned into a rally and a minute of silence was held.
Speaking at the rally, Shehba Canton Council member, Mihemed Weysi, said: "The guerrillas are resisting against the fascist Turkish state. The Turkish state will be defeated as in Garê and Heftanin. Everyone should stand by the guerrilla against the Turkish state's invasion attacks. In this framework, we must take the thoughts of Leader Abdullah Öcalan as a basis."
Afrin Canton Council member Newroz Ehmed said that the Turkish state is trying to escape its serious internal problems with the attacks on Kurdistan. Reacting to the KDP's attitude, Newroz Ehmed said: "Today, we see that the KDP is acting together with the Kurdish enemies. They were partners in the attacks on Avashin, Metina and Zap. Erdogan wants to revive the Ottoman Empire by occupying everything from Afrin to Mosul. The KDP should see this reality."
Newroz Ehmed called for increasing the struggle against the Turkish occupation.