People of Kobanê protest deadly Turkish drone attacks
The people of Kobanê took to the streets to protest the increasingly ongoing Turkish drone attacks across North and East Syria.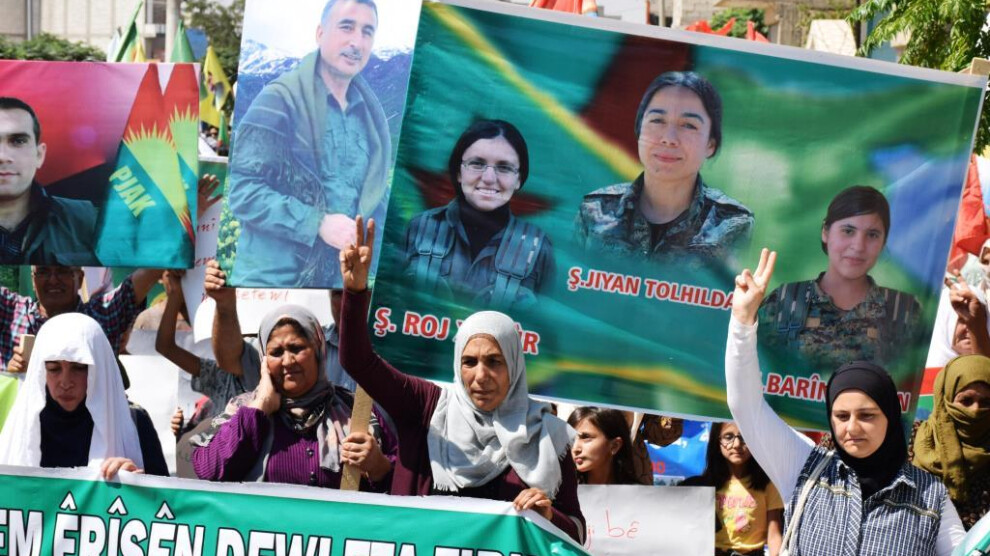 Thousands of residents, as well as members of civil associations and political parties in the Euphrates Region gathered at the Free Women's Square in Kobanê on Thursday in protest at the increasingly ongoing Turkish drone attacks across North and East Syria.
The protestors carried banners reading "No to Invasion" and "Enough of Silence" accompanied by photos of those who were martyred in Turkish bombings against North and East Syria.
The crowd marched from the Free Women's Square to the Martyr Egîd Square where Kongra Star Euphrates Region Executive Member Macîde Hesûn delivered a speech and said: "We praise the guerrilla resistance that has already achieved outstanding success against Turkish fascism. This resistance has frustrated the plans of the Turkish occupation state."
"The latest Turkish attack in Qamishlo reveals its hostility against the populations in the region. The guarantor states should abandon their silence. All the massacres that are being committed today are happening before their eyes," she added.
Hesûn called on the people of North and East Syria to organize themselves based on the revolutionary people's war against the attacks of the Turkish army.  "As women in North and East Syria, we must defend and organize ourselves against the occupation, along with all its components."
Hesûn vowed that they would promote the ideas and philosophy of Kurdish leader Abdullah Öcalan, and that the democratic project led by the people of the region would be successful.
The demonstration was concluded by chanting the slogan "To Live is to Resist".