People in Raqqa pay tribute to martyr Siham El-Şenan
Martyr Siham El-Şenan was sent off on her last journey in El-Jidêdat, in Raqqa.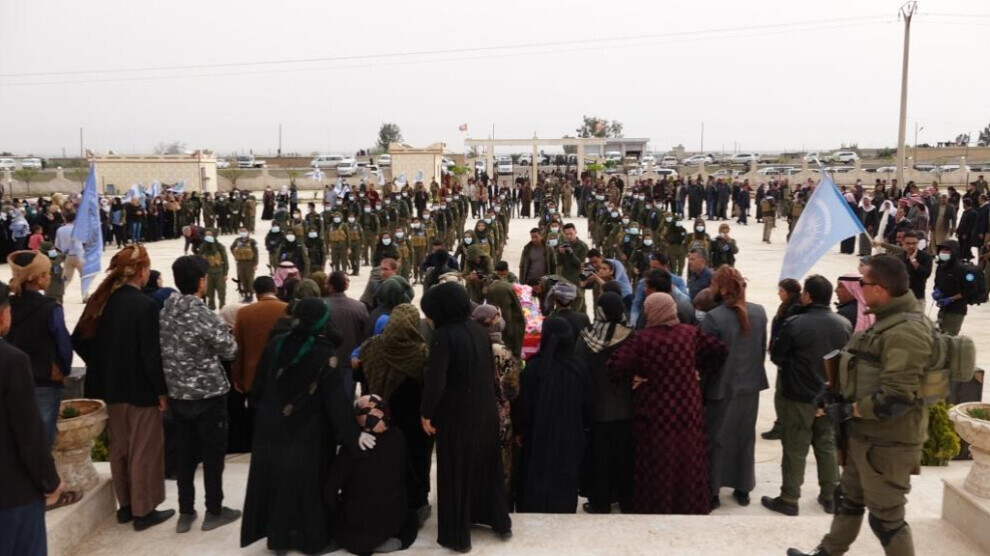 ISIS mercenaries on Friday targeted a vehicle in the convoy going to the funeral of a member of the Internal Security Forces who fell a martyr in the town of Keramê, east of Raqqa. As a result of the attack, Siham El-Şenan, a member of the Women's Internal Security Forces, fell a martyr. Today she was laid to rest with a military ceremony by the Internal Security Forces. Representatives of the military institutions and many people attended the funeral.
Sivan Raqqa made a short speech at the ceremony on behalf of the Women's Internal Security Forces General Exceutive. Raqqa expressed the condolences of the forces to martyr's Siham and the families of the other martyrs and stated that the aim of the enemy is to destroy the will of women. Raqqa underlined that they will continue to work following the philosophy of Kurdish people's leader Abdullah Öcalan.
After the speech, the Martyrs' Families Council delivered the document of martyr Siham El-Şenan to her family.