People in Girkê Legê and Kobanê protest Turkish attacks
The people of Girkê Legê and Kobanê took to the streets against the Imrali isolation and the Turkish state attacks.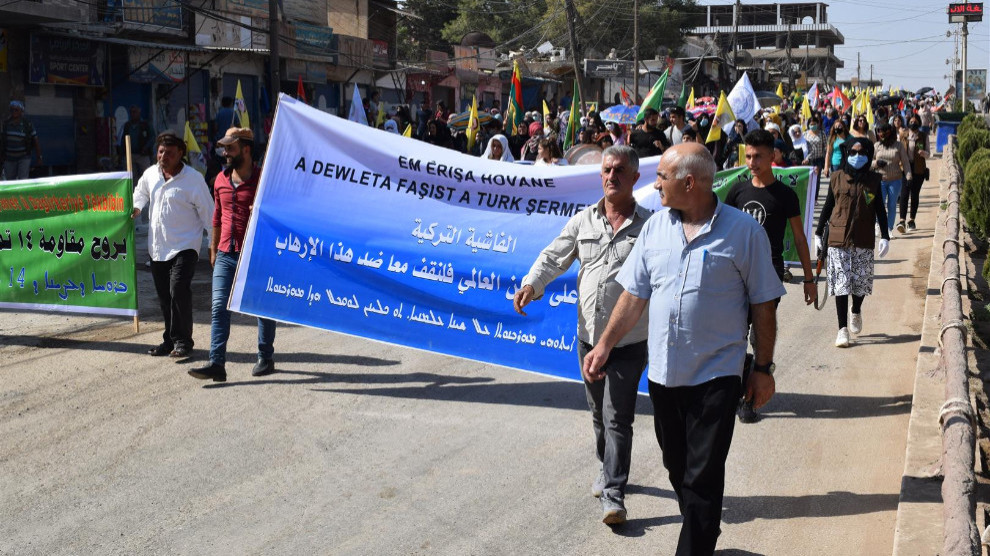 People of Girkê Legê, province of Qamishlo came together in Martyr Xebat Square to protest the attacks of the invading Turkish state against North and East Syria, Medya Defense Areas and the isolation on Kurdish people's leader Abdullah Öcalan.
Speaking on behalf of the PYD General Assembly, Abdülkerim Saruxan said: "As the PYD party serving the people of North and East Syria, we say no to the occupation of the Turkish state. We say that the resistance should be increased. The Turkish state is constantly attacking the Northern and Eastern Syrian regions. The invaders want to destroy the Kurdish people and identity. Therefore, we must protect our gains."
KOBANÊ
Hundreds of people gathered in Free Women Square in Kobanê city center and marched towards Aşti Square. Participants carried PYD flags, posters of Öcalan and the martyrs of freedom.
Euphrates Region Autonomous Administration co-chair Mihemed Şahin drew attention to the importance of preserving the gains of the Rojava Revolution, achieved thanks to the martyrs. Şahin said: "In order to protect our gains from the Turkish state, we must take our place in the defense of our achievements."
Mihemed Şahin urged everyone to stand against the Turkish state's occupation.
PYD Euphrates Region Council co-chair, Bêrivan Hesen, called on the public not to remain silent against the crimes and to take part in the initiative.