Peace Mothers: We will stay at the border until we get the remains of our children
The Peace Mothers made a statement at Semalka Border Gate after the KDP forces said they would convey their demands to the authorities in Bashur Kurdistan.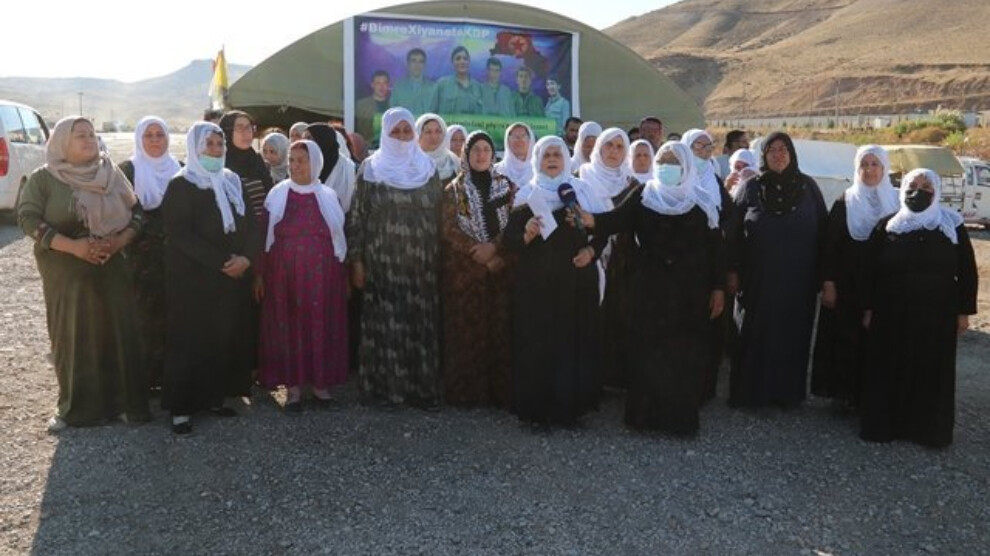 Peace Mothers are demanding the bodies of martyr Tolhildan Raman and martyr Serdem Cudi, who fell in Xelifan as a result of a KDP ambush. They came together at the Semalka Border Gate on Thursday.
Suad Mistefa, mother of Martyr Hevrîn Xelef, read the statement prepared by the Peace Mothers.
The statement said: "We salute the resistance of the mothers and families who carried out a tent action at the border for over two weeks. We will continue our protest until we receive the bodies of our martyrs. The KDP has not allowed the Peace Mothers to cross to Bashur Kurdistan twice. If the bodies were in the hands of Turkish fascism, we could not reclaim them, but both of our martyrs are in the hands of our Kurdish brothers. The KDP has not accepted our demands so far. They promised the Peace Mothers that they would accept their demands on Saturday and hand the bodies over to the authorities. Peace Mothers will continue their activist peace until they receive the remains of their children. We will resist until all obstacles to Kurdish national unity and common life in four parts of Kurdistan are removed."