Mothers of the martyrs from Kobanê demand KDP to return bodies of fallen guerrillas
The mothers of the martyrs from Kobanê want the bodies of the guerrillas fallen as a result of the KDP attack to be delivered to the families.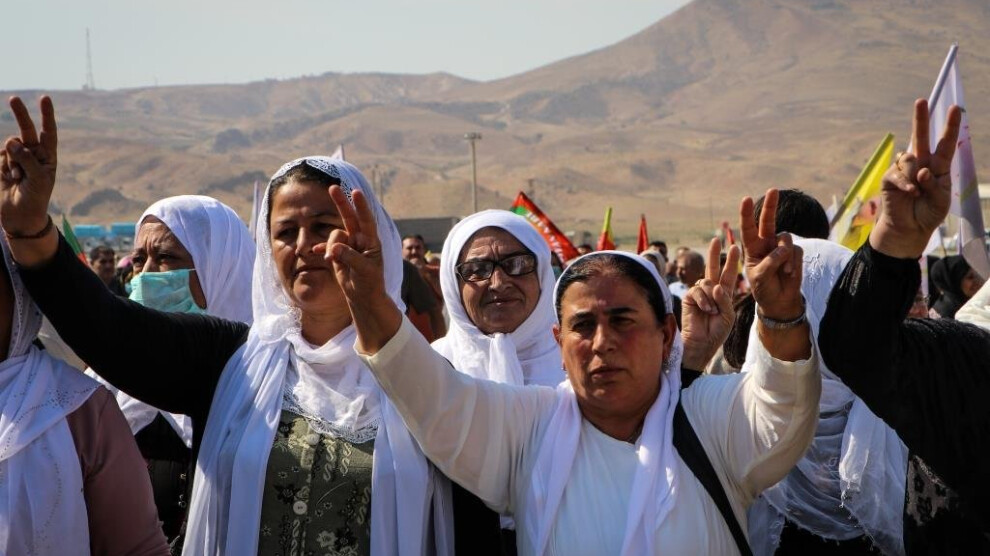 As a result of an ambush set up by the KDP forces, 5 guerrillas of a 7-person guerrilla group fell as martyrs. One guerrilla was taken prisoner. One guerrilla was able to return to his unit 16 days after the attack. The HPG said in a statement that the guerrilla group was ambushed in Xelifan and confirmed that the guerrillas fell as martyrs as the result of the ambush by the KDP. The bodies of the martyred guerrillas have not been given to their families.
The mothers of the martyrs from Kobanê called for the KDP to stop its betrayal of the Kurdish people. Martyr Ehmed Sînor's mother, Narîman Ehmed, said: "The KDP must fulfil the demands of the mothers in Semalka. The attacks against the guerrilla in the mountains of Kurdistan are immoral attacks. We want them to end. Serving the interests of the Turkish state, the KDP is doing great harm to the Kurdish people's cause for freedom."
Narîman Ehmed continued: "The Turkish state is taking advantage of the KDP's betrayal. The Kurdish people must unite against their enemies. The bread of the enemy must not be buttered. The KDP is making a big mistake by attacking the guerrillas. The bodies of the fallen guerrillas should be returned to their families immediately and this situation should not be repeated."
Martyr Kemal Kobanê's mother, Zahide Ehmed, said: "The Turkish state is the Kurdish people's worst enemy. It also uses the KDP as a tool to realize its plans. The bodies of the fallen guerrillas should be handed over to their families as soon as possible."