Kobane youth take to streets against Turkish invasion
Kobane youth held a massive demonstration in protest at threats and attacks of the invading Turkish state.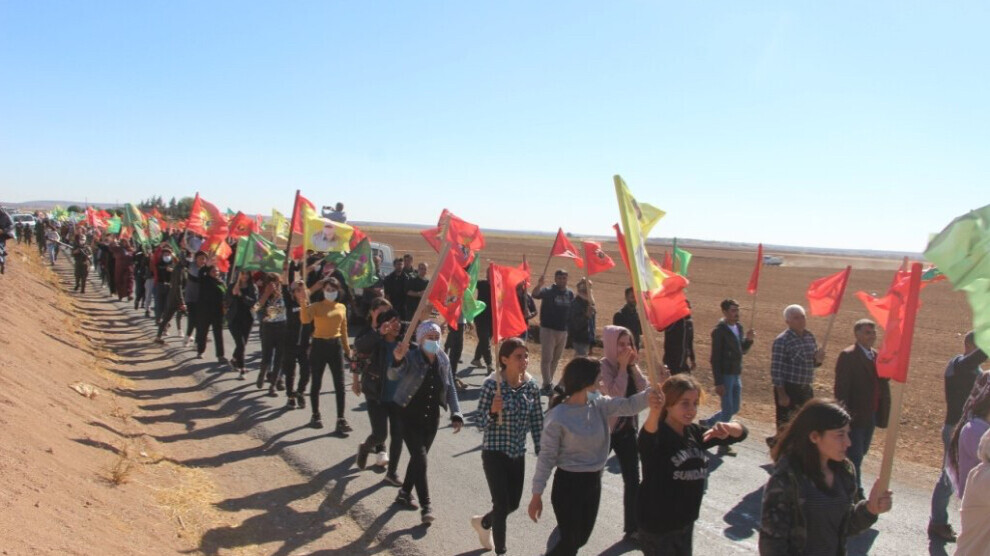 The Syrian Revolutionary Movement in the Euphrates Region launched a protest march under the slogan "Resistance is our slogan, freedom is our right, and democratic nation is our demand".
The march, participated by hundreds of people, began in Teri village of the Sheran district, which is 13 kilometers away from Kobane.
During the march, the crowd condemned the Turkish state's attacks by armed unmanned aerial vehicles (SIHA), threats, and invasion operations against the region.
Since 23 June 2020, the Turkish state's airstrikes by SIHAs have claimed the lives of 13 people in North and East Syria.
Reading a statement before the march, Ehmed Elî Ehmed, a member of Syrian Revolutionary Youth Movement in Euphrates Region, stated that they follow in the footsteps of the martyrs who sacrificed their lives to defend the Kurdish people and honour of Kurdistan.
Indicating the Turkish state's systematic war crimes and attacks with chemical weapons, the statement condemned the silence of international forces.
The march of the youth will be concluded at Kobane city center.