Kobanê celebrates 1 November with a march and rally
1 November, World Kobanê Day, was celebrated with a march and rally in Kobanê.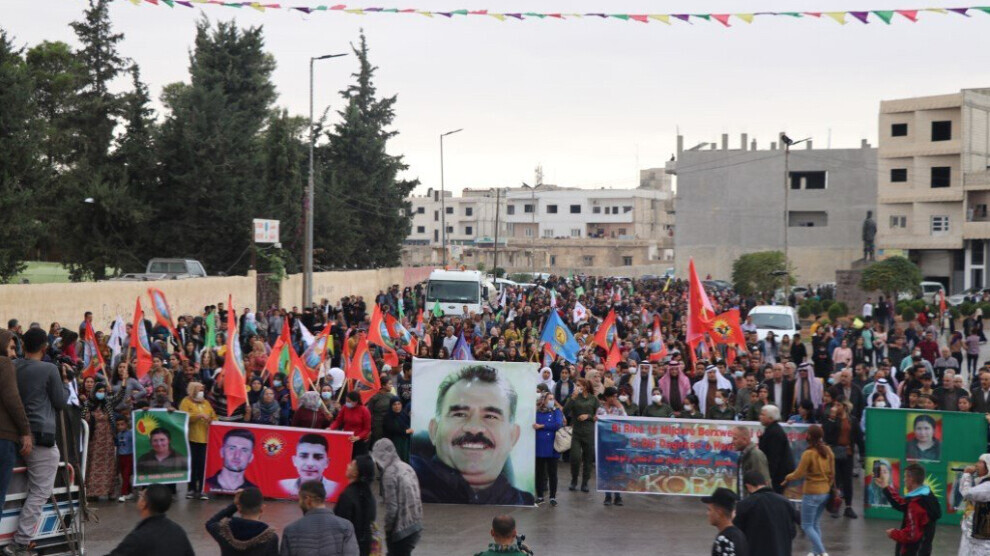 The people of Kobanê and a delegation from Raqqa came together at the Free Women's Square and marched towards Martyr Egîd Square.
Before the march, the Raqqa Democratic Civil Administration delegation made a statement. Raqqa Legislative Assembly co-chair Rihab Al-Nafi said: "Since the will of the peoples is one, today has been declared as a day of solidarity with Kobanê. Some [starting with Turkish president Erdogan] repeatedly said 'Kobanê has fallen, it will fall', yet Kobanê proved to everyone that it did not fall thanks to the resistance of the young people who had joined the ranks of the YPG and YPJ and the internationalists. Kobanê became the symbol of freedom and democracy, and also the capital of the resistance, and marked the beginning of the defeat of ISIS. Kobanê has transformed the common destiny of the Syrian peoples into a real system."
Al Nafi added that, thanks to the Kobanê resistance, Girê Spî, Manbicê, Raqqa, Tabqa and Deir ez-Zor were liberated from ISIS mercenaries.
"Any attack on Kobanê is an attack on Syrian territory, civil and international society," the statement added. "It is especially aimed at all states involved in the Syrian crisis as they are indebted to this resistance which prevented inhuman and brutal crimes from being carried out."
Kobanê Canton Assembly co-chair, Mistefa Êto, celebrated World Kobanê Day and said: "When we talk about 1 November, we remember both the 15 August and 19 July resistances. The holy lands of Kobanê remind us of the resistance of free peoples. This small city has proven to the whole world to be a stronghold of resistance."
Making a speech at the rally, Raqqa Civil Council co-chair Şêx Mihemed Nûr Al-Zêb said: "We have won successive victories here from Raqqa to Tabqa and Baghouz. The Syrian people will stand together against all enemies against humanity."
Kongreya Star Coordination member Felek Yûsif said: "This revolution, known as the women's revolution, has come to this day thanks to the resistance and struggle of women. Kobanê and Northern and Eastern Syria regions have become symbols of resistance against ISIS and the invading Turkish state."
The rally ended with singer Muradê Hemzo singing in Kurdish and Arabic.