Families asking for the bodies of fallen guerrillas on day 48 of protest at Sêmalka
For 48 days, relatives of fallen guerrillas have been protesting at the Sêmalka border crossing in Rojava, demanding that the South Kurdistan's ruling party KDP hand over the bodies of guerrilla fighters killed in an ambush by its forces.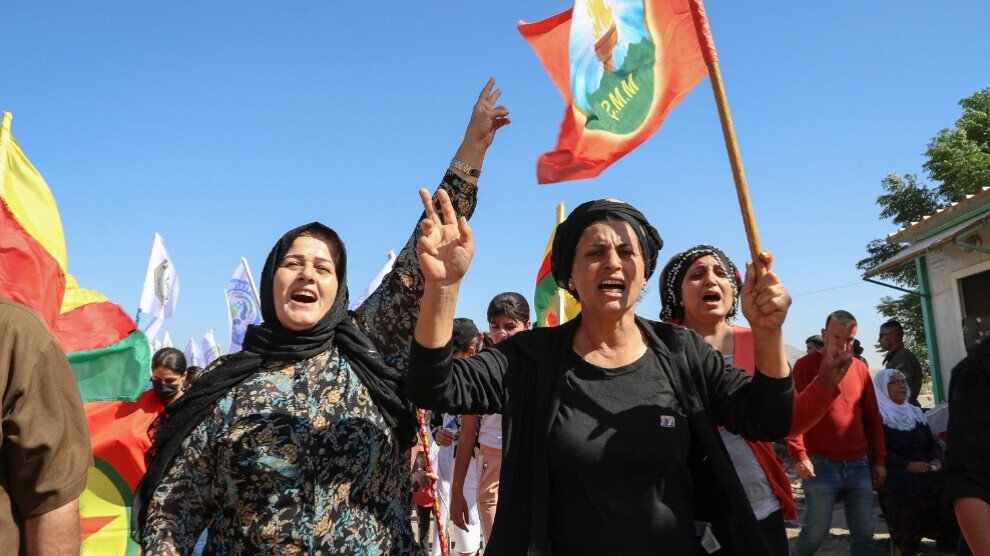 On August 29, seven guerrilla fighters were ambushed by KDP special forces in the southern Kurdish region of Xelîfan. Five guerrillas were killed in the ambush, while two survived. Haki Zîlan, one of the survivors of the attack, reported that the KDP special forces riddled the bodies of the guerrilla fighters with bullets in order to kill any survivors. This qualifies the ambush as an extrajudicial execution and thus a war crime. Although almost three months have passed since the attack, the KDP is not handing over the bodies of the fighters to their relatives.
Since October 5, a vigil has been held by relatives of the martyrs at the Sêmalka crossing on the border from Rojava to South Kurdistan. The relatives are demanding the remains of YJA-Star commander Nesrin Temir and HPG fighter Yusif Ibrahim, both of whom were from Rojava. The action is supported by the Council of Martyrs' Families in the Cizîrê region. Delegations of mothers repeatedly attempted to reach South Kurdistan to voice their protest; however, they were prevented from crossing the border by the KDP's border troops.
Solidarity visits to the families at the Sêmalka border crossing continued on the 48th day of the protest.
One of the activists, Aram Beşar from Heseke city, condemned the KDP's acts and emphasised the importance of fighting against betrayal.
"KDP's actions and its refusal to hand over the bodies of martyrs go against the norms of religion, tradition and international law and cover up the crimes committed by the Turkish state in South Kurdistan. Beşar called for pressure to be put on the KDP for the delivery of martyrs' bodies to their families.
Another citizen from Hesekê, Ela Memdûh, stated that the policies pursued by the KDP were the cause of Turkish occupation in South Kurdistan and the failure to achieve Kurdish national unity.