Children in Kobanê demonstrate for their rights and against war
Children demonstrated for their rights and against war with a protest march through Kobanê. The occasion was the Children's Rights Day.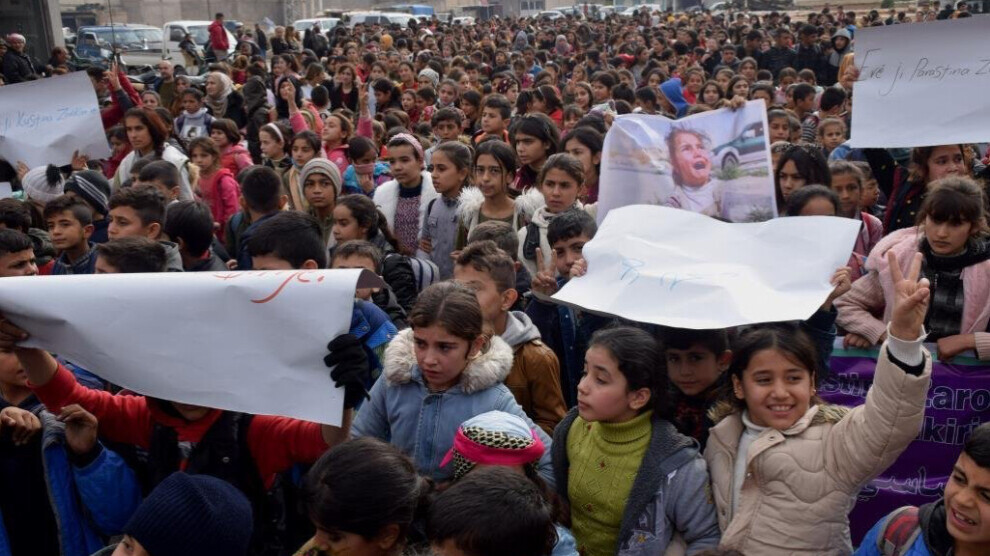 Thirty-two years ago, on November 20, 1989, children's rights were established by the United Nations (UN) General Assembly in a separate convention. It is the most important international human rights instrument for children, listing the core children's rights that apply worldwide, including the right to protection from violence, to education, to participation, to equal treatment, and the right to leisure, play and recreation. These rights apply universally, that is, to all children. 192 countries worldwide have signed the UN Convention on the Rights of the Child - and thus almost all countries in the world.
However, this set of rules is often not implemented. Turkey, in particular, is one of the countries that often deny children their rights - whether through wars, child labor or the recruitment of so-called child soldiers for mercenary organizations. To draw attention to the fact that children's rights must be strengthened and enforced worldwide, thousands of people took to the streets in Kobanê on Sunday. The protest march was promoted by the Education Committee of the Euphrates region together with the cultural movement Hîlala Zêrîn.
The demonstration was attended not only by children and minors, but also by their parents. The march from the Free Women's Square to the Peace Square was followed by a closing program with speeches. Xalid Ceradê, member of the board of the Education Committee, pointed out that wars and conflicts were getting worse worldwide and were becoming more and more dangerous for children. Almost half a billion children live in wars and crisis areas, and more than 150 million girls and boys grow up in the most dangerous living conditions, according to reports by various human rights organizations.
In an appeal to the international community, Ceradê called on all governments and parties to the conflict to finally act to end the "war on children." He said, "All states must now work to ensure that international norms are upheld and perpetrators held accountable for their crimes. The world cannot be allowed to stand by while children are targeted and their lives destroyed."