Afrin Region Health Institute reopens in Shehba
Afrin Region Health Institute was reopened in Shehba. It was closed after the Turkish state's attacks on Afrin in 2018. The institute registered 30 students for the first stage.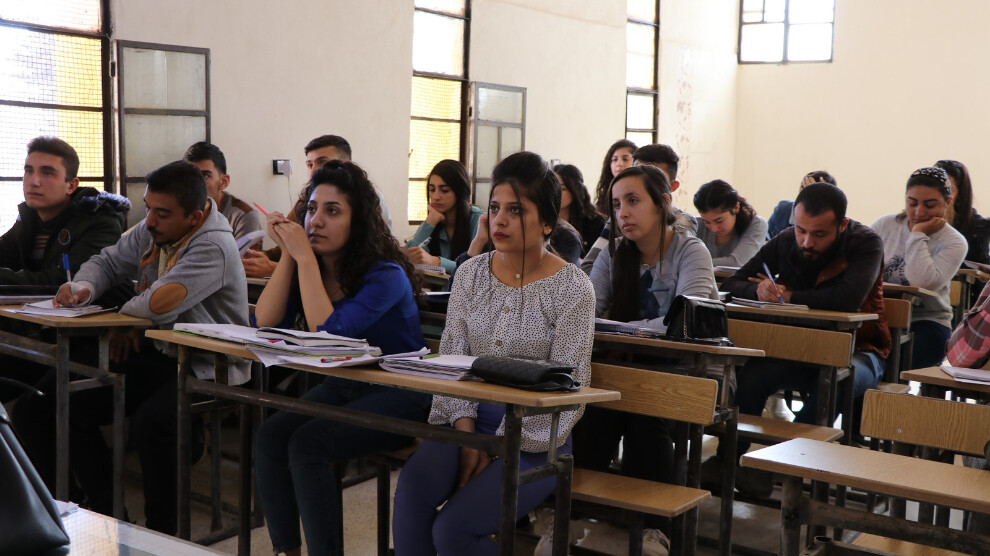 Afrin Region Health Institute was opened in Afrin canton in 2016. The institute trained more than 50 students for two years. The institute was closed down after the Turkish state occupied the Afrin canton in 2016. Therefore, the students had to continue their education at the Jazira Region Health Academy (Faculty of Medicine).
Thanks to the resistance of the refugees from Afrin in Shehba, work continued in all areas of life. In this context, the Health Committee opened the Martyr Viyan Amara Health Institute in Ehdas under the coordination of the Afrin Region Education and Training Committee. The Institute welcomed 30 students for the first stage.
Reşid İbiş, a member of the Health Institute Management, told ANHA that the aim of opening the institute is to place specialist health teams in health centers and hospitals.
Speaking about the opening of the Health Institute in Shehba, Reşid İbiş said: "One of the things that emerged at our health conference was the opening of the health institute. We opened the Martyr Viyan Amara Institute in Ehdas district and set up a laboratory in it."
In 2018, the Afrin Region Education and Training Committee restored the Ehdas prison building and opened a school for Afrin children to continue their education. The cells of the prison were converted into classrooms after the restoration and institutes of science, physics, chemistry and philosophy were opened here.
İbiş said that Martyr Viyan Amara Institute built the Health Institute this year and added: "Those who have a high school diploma could register at the institute. We received nearly 40 registrations. An exam was held on October 10 and 30 people qualified to study at the institute."
During the two-year education period, students will receive theoretical and practical lessons from experts in the field of TIP. Some of the courses, to be given in Kurdish, Arabic and English, are as follows: Pharmaceutical science, physiology, biology and microbiology.
Fighting the embargo
İbiş drew attention to the difficulties they faced and said: "The most difficult thing we are coping with is the embargo imposed by the Damascus government on the Shehba canton. The embargo prevents the institute from meeting its needs. On the other hand, the bombings of the invading Turkish state have a negative effect on students."
The Health Institute director said that the students will do theoretical internships in the first year and internships in hospitals in the second year.