Action in solidarity with hunger strikes continues in Qamishlo
The youth-led tent protest in Qamishlo continues on its seventh day in solidarity with the hunger strike of political prisoners against the isolation and rights violations in Turkish prisons.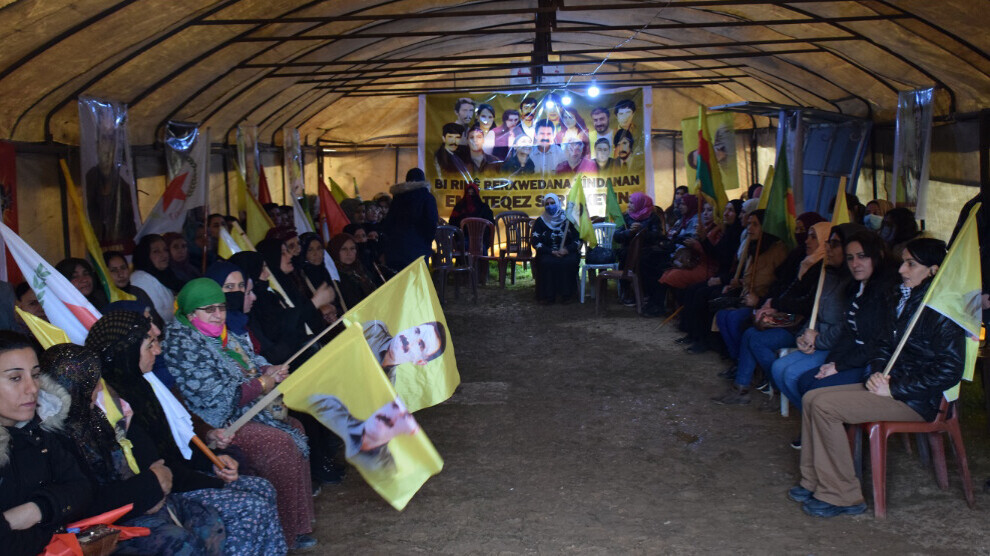 The protest in the city of Qamishlo in North-East Syria is being carried out in a tent set up in the park in front of the office of the United Nations High Commissioner for Refugees.
While the hunger strikes in Turkish prisons have been continuing since November 27th, the tent action in Qamishlo was started on January 12th under the leadership of the Syrian Revolutionary Youth Movement to promote this hunger strike and make the prisoners' voices heard.
The tent, which was set up with the motto "We will win with the spirit of resistance in prisons," was decorated with photos of Kurdish People's Leader Abdullah Öcalan and the martyrs of the revolution.
On the seventh day, members of Girkê Legê and Çilaxa councils, residents and members of the Syriac Unity Party also participated in the action.
Sirûd Şimer, a member of the Democratic Union Party (PYD) Çilaxa Council, condemned the invading Turkish state and stated that they, as the peoples of North and East Syria, will continue their actions until the isolation on Abdullah Öcalan is lifted.
Yildiz Cemo, a member of the PYD Girkê Legê district branch, said that they will fight in solidarity with the prison resistance until the end.
Speaking on behalf of the Syriac Union Party, Nûra Hena said: "The occupying Turkish state wants to invade the region by separating the peoples of North and East Syria. However, it will not be able to achieve its goal because the peoples of the region are one in soul and body."