AANES calls for a no-fly zone against Turkish attacks
Four civilians, including two fourteen-year-olds, were killed in Turkish attacks on the autonomous region of northern and eastern Syria on Tuesday. AANES calls on the international community to act.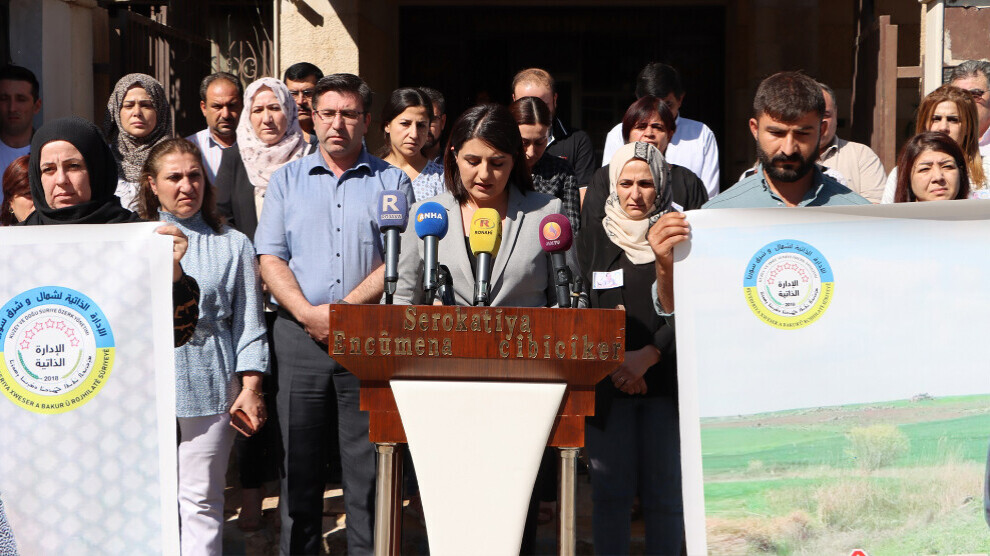 The Autonomous Administration of North and East Syria (AANES) defined the continued Turkish attacks on the region as crimes against humanity and called on the international community to act. The executive council of AANES in the Cizîrê region provided information about the latest deadly attacks by Turkey at a press conference in Amûdê on Wednesday. Accordingly, an AANES car was bombed by a drone at 1.50 p.m. local time on Tuesday. The co-chairs of the Justice Office, Zeyneb Mihemed and Yilmaz Şero, were martyred in the attack. In the evening, villages in Zirgan town (Abu Rasen) were attacked with heavy weapons, leaving two fourteen-year-olds dead and six people, including children, injured.
"These brutal attacks are a continuation of the genocidal war waged by the fascist Turkish state against the people of the region, which is directed against the security and stability as well as the institutions of the autonomous administration. Moreover, these attacks aim to displace the original inhabitants of the region and undermine the project of the autonomous administration," Ahîn Siwêd said on behalf of AANES at the press conference.
The attack on the chairpersons of the Justice Office coincided with the operations against the "Islamic State" (ISIS) supported by the international coalition, the AANES representative continued. "With its attacks, Turkey is undermining the fight against terrorism and collaborating with ISIS. We condemn the terrorist attacks by the Turkish occupying state and consider them war crimes against humanity. We call on the international community, the coalition and Russia to take responsibility," said Ahîn Siwêd, offering condolences to the relatives of the victims and the people of north-eastern Syria.