A female commander from Deraa in Manbij: Narin Qamishlo
Female commander Narîn Qamishlo from the Manbij Military Council urged young people to join the military councils against the increasingly ongoing attacks in the region.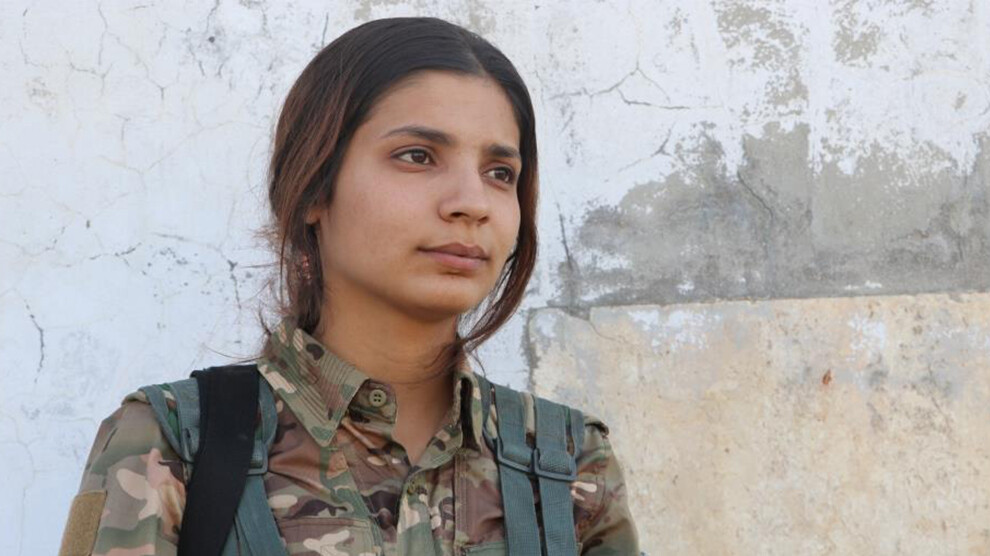 Many social components such as Kurds, Arabs, Syriacs and Turkmens take their place in the Manbij Military Council. The female commander, Narin Qamişlo, is one of them. Although her family objected to her decision to join the military council, Narin did not back down. Qamishlo's determined stance shows the fact that every segment in the region must pay the price for living in a free country.
Like many other fighters in the military forces of North and East Syria, Qamishlo has led a life of struggle and a love for rebellion. The female commander defied family traditions in the first place, and now takes her place on the front lines against the invaders.
Narin Qamishlo was born in the city of Deraa. Her family belongs to the Shiite sect. When Narin was five years old, her family moved to Qamishlo after her father, a soldier of the Syrian army, was appointed there. But they also went back to Deraa from time to time.
Narin was in Deraa during the People's Spring when fighting broke out. She witnessed the persecution of the people of Deraa. This situation made Narin pursue her dreams to save Deraa from oppression and build a democratic Syria in the future.
Having witnessed persecution at a young age, Narin joined the YPJ (Women's Defense Units) in 2019 in Serêkaniyê, taking the name of her schoolmate, who had been martyred in Serêkaniyê in 2013.
"After learning about my friend's martyrdom, I immediately joined the YPJ. The women in YPJ and their weapons impressed me much. I picked up this path to avenge my friend and all other friends," Narin said.
'I SHOULD BE PART OF THIS REVOLUTION'
Despite the pressure from her Baathist family and tribe, Narin did not take steps backward.
"My participation was not in accordance with my family traditions. I wanted to break those traditional barriers. I took up arms against this mentality. Kurds, Arabs, Circassians and Syriacs were all taking their places in an army. I wanted to join them, too. Our society has always been oppressed. I couldn't stand it any longer. I thought I had to be a part of this revolution," she said.
After a while, Narin met her family and told them: "I am here for a cause, and I joined the military council. You and all other peoples in the region should also contribute to this cause."
"As a Shiite woman, I call on Arab society to abandon these traditions, because all these traditions move us backward and do not allow us to fight for our own rights. After I joined, I realized that we had rights and we had to fight for them."
'IF THEY ATTACK, WE WIN'
After the battle in Serêkaniyê, Narin joined the Manbij Military Council.
Speaking about the situation in Manbij and the threat of the invading Turkish state, Narin said, "We are in a very complicated situation right now. We took our positions on the battlefields. We are prepared for an attack. The people of Manbij also support us. This means that Erdogan's threats will be frustrated. We believe that if an attack is launched against us, we will be successful. The enemy thinks that heavy weapons could break our will. If they take one step, we will take ten steps. This leads to fear in the hearts of the enemy soldiers. Our goal is not war, but peace," she said.
Remarking that the Turkish attacks on Manbij villages continue, Narin added, "Civilians are being targeted here. They are trying to manipulate the people of the region against us, but the people are already familiar with the enemy forces."
'SYRIAN GOVERNMENT TROOPS ARE ATTACKED BUT NO RESPONSE IS GIVEN'
Narin noted that there were also Syrian government soldiers on the fronts where attacks are taking place. "Damascus and the Russian government forces are also stationed on the front lines but do not respond to the attacks. There has been no response regarding the rumours that Damascus government areas have been bombed. If a battle breaks out here, neither the Damascus government nor Russia will respond. We take our strength from our martyrs and will continue to fall as martyrs for the country. We can build a country with the blood of martyrs. We also take strength from Abdullah Öcalan. This is how we strengthen our will."
'YOUNG PEOPLE SHOULD JOIN MILITARY COUNCILS'
Following the invasion threat of Turkey, numerous young people in Manbij applied to join the military council.
"These participations are something we need to be proud of. All young people in the region should join the military councils. My appeal to all young people; the country needs you. Those who are not part of the revolution today cannot be a part of it tomorrow. If we do not defend it, who will come and defend our country?" the female commander concluded.