Thousands of Kurds protest invasion of Afrin in European cities
Thousands of Kurds and their supporters launched a wave of demonstrations to protest Turkey's invasion of Afrin on Saturday.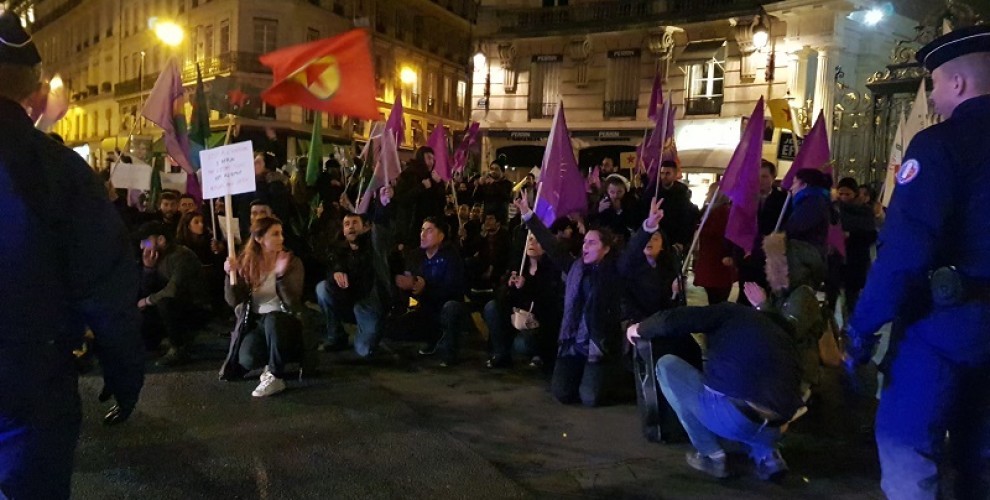 The protests came as Turkish army and its gangs approached within two kilometers of Afrin. Several Kurdish organizations and politicians released statements urging street protests against Turkey.
GERMANY
In Germany, thousands of angry Kurdish protestors took it to the streets in Berlin, Duisburg, Stuttgart, Aachen, Nürnberg, Hannover, Kassel, Essen, Dortmund, Frankfurt, Munich, Saarbrücken, Mannheim and Bremen. The protestors carried YPG/YPJ flags, defying Germany's recent ban on Kurdish symbols.
PARIS
In France's capital city Paris, demonstrators gathered in front of Elysee Palace and started a sit-in protest.
Kurdish groups staged protests in London and Brighton in UK. Protestors gathered together in the famous Trafalgar Square and cut off the traffic.
A group of activists launched a protest action in Amsterdam's Schipol airport. The group chanted slogans "Murderer Erdogan" and "Free Afrin".
In Swiss cities of Basel, Zurich, Luzern, Geneva, Lausanne, St. Gallen, Bern and Aarau, several thousand Kurdish demonstrators took it to the streets, condemning Turkish invasion operation.
Austria's Kurdish community also held protests in Vienna and Graz. Hundreds of demonstrators called for solidarity with Afrin.
Afrin is under Turkish attack for the past 50 days. Hundreds of thousands of civilians are under threat of massacre, Afrin canton officials warned.