"Erdogan cannot revive the Ottoman occupation in our lands"
"Everyone has seen that Turkey is the leading country that supports terrorism and wants to create conflict among the Syrian peoples."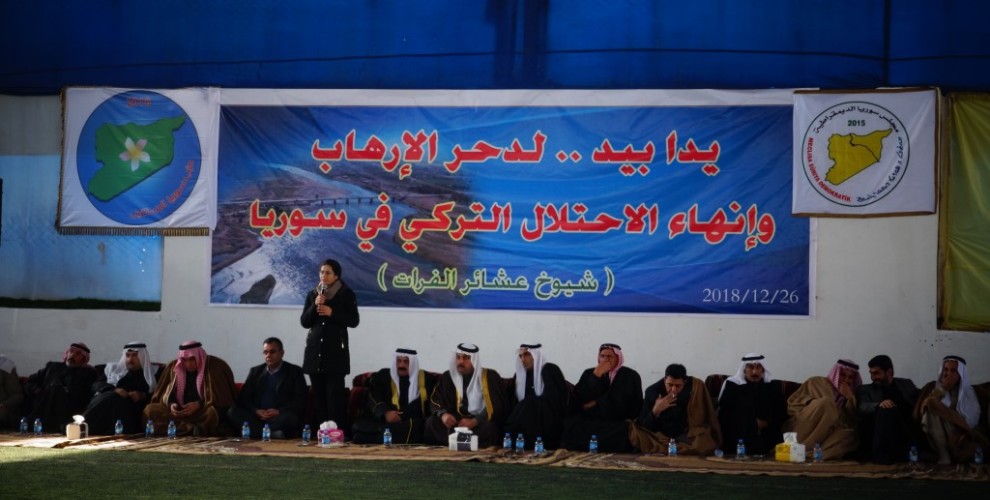 The El-Tac hall, located opposite the Euphrates Stadium in Raqqa, has hosted a meeting attended by hundreds of Kurdish and Arab tribes in the Euphrates region.
Promoted by the Euphrates Region tribes, the meeting was organised with the slogan 'Let's end terror, let's put an end to Turkey's invasion of Syria' and was organised by the Syrian Democratic Council (MSD) and Future Party representatives.
Representatives of the following Arab tribes attended the meeting: Wilda, Begara, Igêdat, Neîm, Elbû Hemîd, Efadle, Mecadme, Şemir, Benî Sultan, Benî Umer, Cebat, Cilîsat, Elbû Cabir, Elbû Şeban, Elbû Xemîs, Şibil, Wehb, Icêl, Hewîwat, Benî Xalid, Elbû Esaf, Amir and Nasir participated.
Representatives of the Kurdish tribes Shatqan, Kêtikan, Iledin, Bijian, Shadadi also joined the meeting.
Ibrahim al-Qeftan, chair of Syria's future party, spoke about the US withdrawal from Syria. "The US came here for their own interests. No country is actually moving for the interests of the Syrian people."
Al-Qeftan continued: "The problems of this region are solved by the participation of tribal representatives and opinion leaders. Our forces, the Syrian Democratic Forces (SDF), fought and saved our land from terror. The people of the region do not want DAESH nor the Ottoman Empire again."
Ilham Ehmed, chair of the Syrian Democratic Council (MSD) Executive Committee, said: "We have achieved a lot against terrorism, especially the on the subject of reconstruction. The US withdrawal from Syria does not mean the withdrawal of the International Coalition from Northern and Eastern Syria. DAESH mercenaries are a danger for many countries. On the other hand, there are many DAESH prisoners in our institutions."
Ilham Ehmed continued: "We are in the process of declaring a new initiative. We will continue this process and we will insist on the regime to protect the honor of Syria. Everybody asks who will replace the US once they withdraw. We are saying that the SDF are still on the front lines of war and that we will stand against threats of attack on the security of our people."
Ehmed added: "DAESH presence in Syria is a danger to European countries. If Turkey attacks and the war continues in Syria, migration to abroad will also continue. Everyone has seen that Turkey is the leading country that supports terrorism and wants to create conflict among the Syrian peoples."
The MSD executive said: "We don't want war on our land. We have provided security and stability with the blood our martyrs. We suffered the destruction of our homes, migration and death. We won't accept interventions that will cause the destruction of our cities."
Ehmed continued: "Our forces defeated the terror, which caused fear all over the world, and stood against the mercenaries. We protected other countries from DAESH and guaranteed their security. Let's discuss the future of Syria with all the Syrian peoples."
Sheikh Hamid El Ferec, representative of the El Welde tribe and the co-chairman of the Tabqa Legislative Assembly, said: "We must support the SDF that has liberated us from terror. Here, we are saying that we will stand up against Erdogan and his partners and defend our lands. Erdogan cannot revive the Ottoman occupation in our lands."
El Ferec said that the Syrian regime and all Syrians should stand against the threats of occupation issued by Turkey. "We must liberate the regions of Syria, such as Bab, Jarablus and Afrin. These are Syrian territories."
Asked by the participants about the MSD officials' visit to France, Ilham Ehmed said: "We demanded the establishment of a no-fly zone. We expect some result. From France, we see that they refuse to abandon their partners in the region and that they oppose the United States decision to withdraw. We think that the countries involved in the coalition will oppose this decision because this decision poses a threat and opens the way to the resurgence of DAESH."