Atrocities in Afrin continue in front of the whole world to see
The invading Turkish army and their gangs continue their atrocious methods against the civilians of Afrin and the historicide in the region in front of the whole world to see.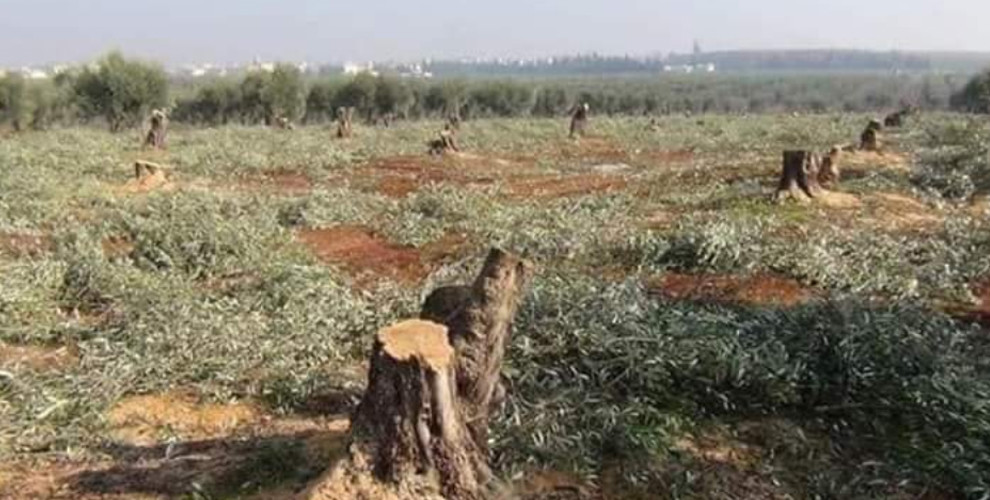 Turkish invasion forces and their allied gangs have been implementing atrocious practices against civilians who remained in Afrin since the first day they invaded the city. The gangs have robbed the olive produce at harvest time, and are stealing the ancient ruins and artifacts that have witnessed thousands of years of history. Turkish state allied gangs are also taking the metal out of the railroad in the Meydan Ekbes village of the Rajo district.
OLIVE PRODUCE CONFISCATED
During the olive harvest, the gangs allied with the Turkish state confiscated 90% of every farmer's product and clashes increased among the gangs as they started having issues in how to allocate the stolen olives.
According to reliable sources, the Ahrar Al Sharqiyya gangs have tortured a civilian named Ibrahim Ibo in the Cheqala village in the Jindirese district to steal his olives.
TEARING OUT THE METAL FROM THE RAILROAD
The invaders confiscated homes and property from the civilians and have been tearing out the metal from the railroad in the Meydan Ekbes village of the Rajo district. According to a local source, the gangs under the Turkish invasion forces send the metal they disassemble to Azaz.
The railroad was built by a German company between 1911 and 1913. It connected the Middle East and Europe together since then, until it was decommissioned in 2009.
STOLEN HISTORIC ARTIFACTS
Turkish state gangs have been digging up historic sites and smuggling the artifacts they find to Turkey to be sold. Some international press has reported that several artifacts from Afrin have been found in museums in Turkey.
In several photographs and videos from Afrin, the Turkish soldiers and gangs are seen digging in historic sites. The most recent photographs ANHA procured shows the Turkish state gangs digging for artifacts near the Xezewiye village in Sherawa.
ABDUCTION OF AL-PARTI MEMBER
Sources in Afrin report that the Turkish soldiers and their allied gangs have abducted 71 year old lawyer Sadiq Najar, former chair for the Syrian Democratic Kurdish Party (Al-Parti). Sadiq, held in Afrin, was taken to his own home where the electronics in the house were confiscated and then transferred to an unknown location.