YPJ Commander: Will end the Turkish occupation
Avesta Xabûr sacrificed her life in an action against the occupiers in Afrin three years ago.The Women's Defense Units (YPJ) commemorated her on the anniversary of her action and martyrdom .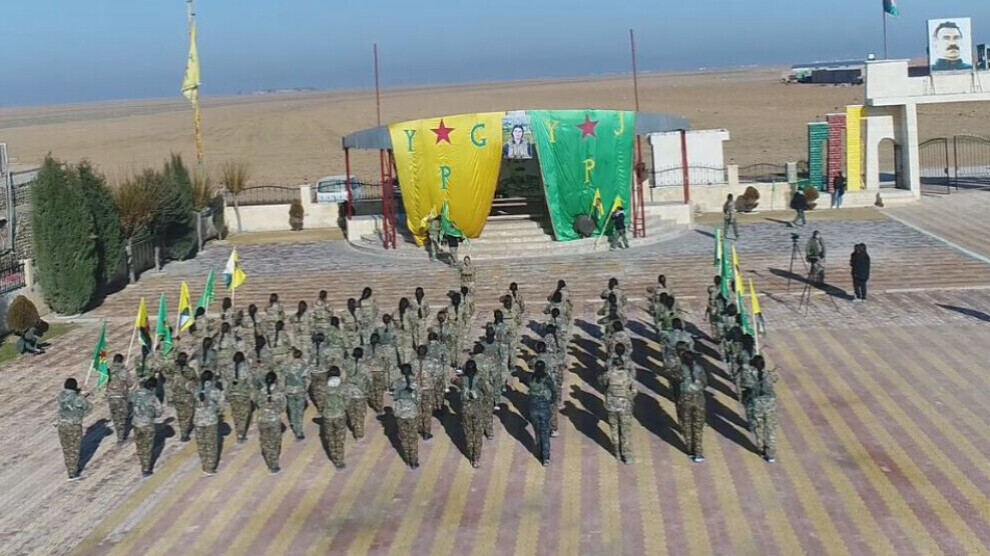 On January 27, 2018, YPJ fighter Avesta Xabûr blew herself up against a Turkish tank during the fight against the Turkish invasion in Afrin to avert a massacre in the village of Hemam in Jindires district, setting a beacon of resistance.
The Women's Defense Units (YPJ) held a military ceremony at the Şehid Dijwar Cemetery of Martyrs near Heseke in commemoration of Avesta Xabûr and the anniversary of the liberation of Kobanê.
Speaking here, YPJ commander Sosin Birhat said; "We draw strength from the struggle of female comrades like Avesta and we will liberate the occupied territories in the spirit of resistance of Kobanê."
The YPJ commander continued, "Throughout the war, revolutionary women have fought with the utmost determination for liberation. In the person of Avesta Xabûr, we commemorate all those who died in the revolution and bow with respect to their struggle."
"Our comrade stood against invasion in the resistance of Afrin with her body and showed a heroine-like attitude. Both the YPJ and the people have drawn great strength from this. The history of the resistant and fighting woman lives on in the YPJ in the spirit of comrade Avesta."
YPJ Commander Birhat recalled the Turkish attacks on the northern Syrian regions of Shehba, Kobanê, Til Temir, Ain Issa, Dêrik and Shengal in northern Iraq, killing men, women and children without distinction.
She continued: "In contrast, we continue the path of our martyrs and consider the liberation of our country and the defense of the revolution as our main task. We will smash the Turkish occupation and defend all women and our region. We go filled with the fighting spirit of Avesta in celebrations for the liberation of Kobanê. Kobanê was liberated with the struggle of women like Rêvana Rojava and Arîn Mîrkan, thus becoming a hope for the whole world. In this spirit, we will liberate Afrin, Serêkaniyê and Girê Spî from Turkish occupation, let freedom reign and express our attachment to our fallen comrades with this."
The ceremony ended under slogans such as "Bijî Serok Apo" [Long live leader Öcalan] and "Jin, Jiyan Azadî" [Women, Life, Freedom].