HDP co-chair Sancar: Government is responsible for Gare
HDP Co-Chair Mithat Sancar stated that the AKP-MHP government was responsible for the deaths of soldiers and police officers in Gare. Sancar said, "The government makes the HDP scapegoat to cover up its mistake."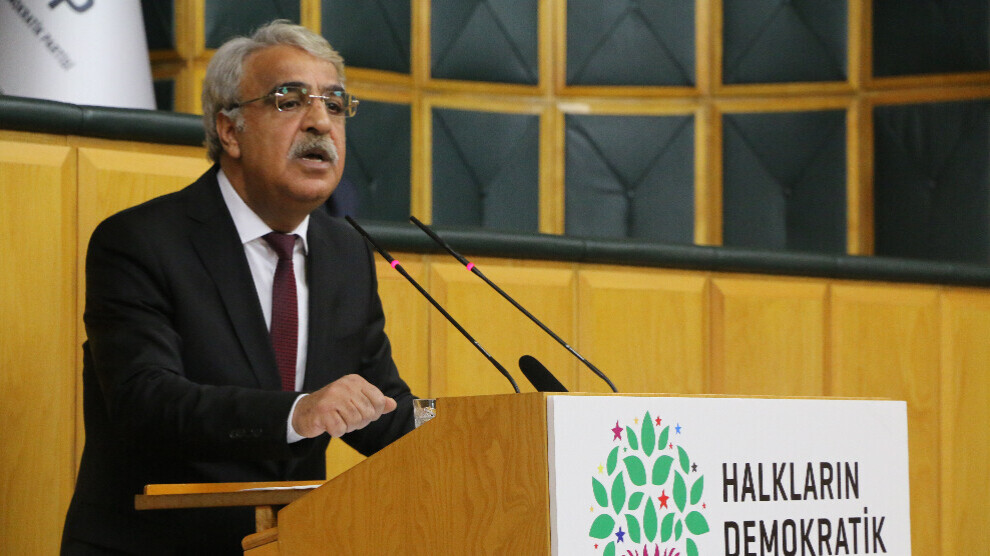 Peoples' Democratic Party (HDP) Co-Chair Mithat Sancar spoke at his party's group meeting. Sancar remarked over the deaths of 13 soldiers, police and MIT members during the operation of the Turkish army against the Gare region.
He said: "What we need now is truth. It is to reveal how deaths occur without any doubt. Was this an execution or did the deaths occur as a result of bombardment? Or if those deaths occurred in another way, what else is that? Let me say this in advance: No matter how the deaths occurred, it is absolutely impossible to accept this situation. We clearly condemn this.
If you are a democratic country you have the responsibility and obligation to be skeptical of the government's statements. The right of societies and people to know the truth is an important right recognized by international law.
What can be done? Of course, an independent investigation commission can be formed. One of the most effective ways to reveal the causes and forms of death of those who lost their lives is to share the autopsy reports with the public in detail. Therefore, we say that reliable, independent and impartial mechanisms should be operated."
Sancar added: "The government has a very clear and heavy political responsibility, this responsibility is in at least two areas. The first of these is the way the operation is performed, the second is that the options other than the operation have not been evaluated. What was the purpose of the operation, no information was given to the public on this issue at the beginning of the operation, but we understand from the President's speech yesterday that the aim was to rescue these officials.
If the aim was to save these officials, should the operation have been done this way? 41- 42 fighter jets dropped bombs for days. Under such conditions, was it possible to save these people?
As a matter of fact, the President openly says that the operation failed. Well, there is no responsibility for this? There were other ways to save these people alive. Much simpler ways.
There is only one criterion for success; to make those people to reunite with their families. If this is not the case, all officials who decide on the operation and are responsible for its execution are clearly politically responsible."
Sancar added: "The Human Rights Association Diyarbakır Branch prepared a report on people detained by the PKK covering the years 1990-2010. It found that 335 people were detained in 22 years. As a result of the initiatives we just mentioned, all 335 people were able to meet their families safe and sound.
The families, who struggled to get their children released, visited our party in 2015, 2016 and 2019. They visited exactly 4 times. At that time, our group deputies and other authorized colleagues were asked for support for their children to be released, and each time our friends expressed in public that they were ready to do their part in this regard. Dear Ömer Faruk Gergerlioğlu, who took part in the human rights struggle before he became a deputy, has always been with these families. Now the government's media and trolls are targeting him.
Dear Hüda Kaya, has likewise been involved in these efforts. All of my friends sitting here are like that, but I wanted to mention these two friends. Because they are especially attacked by these two friends. We issued parliamentary questions, we wanted to ensure the release of these people. But we always come across that last obstacle which was the government itself. Look, in 2013, there was District Governor Kenan Erenoğlu, who was detained by the PKK during the solution process, and he was released together with 6 soldiers and a police officer as a result of our party's attempts. Regardless of how the deaths took place, it is the biggest political responsibility not to take these initiatives, and this responsibility is in this power. This power is therefore clearly responsible.
Let's remember how those people were rescued in the incident when the Consulate General of Mosul was raided by ISIS and dozens of people were taken hostage. Aside from how the negotiations were made and what promises were made, the decision to save those people's lives through the negotiations was correct."
Sancar ended his speech by saying that "it was 6 years ago, our current Co-Chairperson Pervin Buldan, then Sırrı Süreyya Önder, who was in the İmralı delegation due to the solution process, and our group vice president İdris Baluken personally climbed the mountains in Lice, never thought about any risks, never hesitated, and they rescued two detained soldiers personally.
The government makes our party a scapegoat to cover up the responsibility in Gara. The HDP's attitude is certain, we say we are insistent on democratic politics, we want a democratic solution, we want peace. Peace can only come with respect for our struggle in democratic politics. We are the guarantor of peace in this country. Let them do the operation they want against us. We will not deviate from this goal, we will not abandon our belief."