Peace in Kurdistan stands in solidarity with students and lecturers at Bozagici University
Peace in Kurdistan stands in solidarity with students and lecturers at Istanbul's Bozagici University and demands the immediate release of all those being held following this week's mass arrests.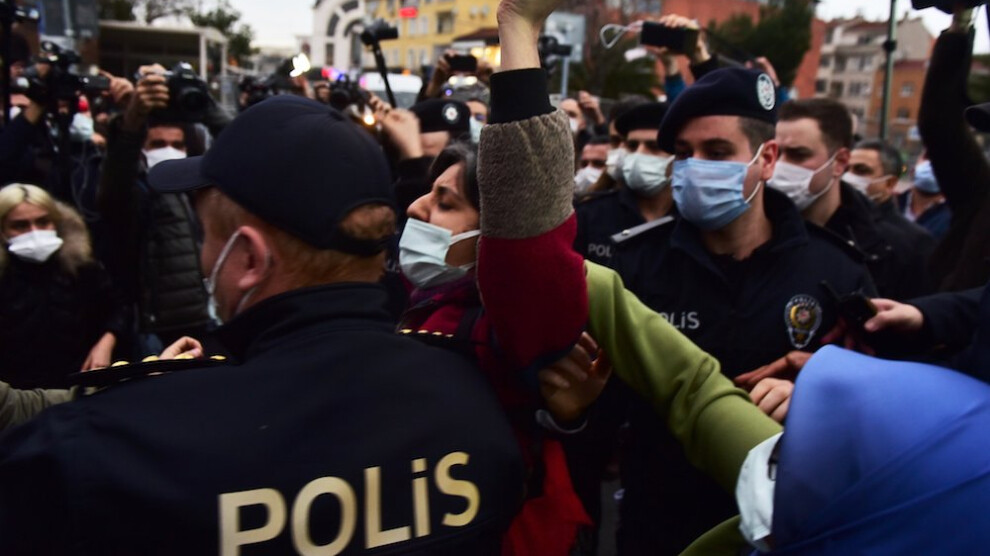 Peace in Kurdistan released a statement condemning the police brutality that has seen 159 people detained and at least one protester beaten unconscious.
The statement calls "on all academics, students and those who stand on the side of peace and democracy to join us in demanding a swift and urgent statement from the British government in response to the crackdown as a matter of urgency. This is not merely an attack on academic freedom, but is a reflection of a deeply authoritarian regime tightening its grip on all aspects of life in Turkey." 
PIK reminds that "snipers have been positioned on buildings with their sights trained on students protesting against the imposition of pro-government rector, Melih Bulu, a businessman who had previously stood as a candidate for the ruling Justice and Development Party (AKP). He is the first rector to be appointed from outside the university community since the 1980 coup."
Police have attacked solidarity protests in towns and cities across the country including Izmir and the Turkish capital Ankara, where a young woman was beaten unconscious. Female protesters have reported being strip-searched and sexually assaulted by police officials.
Students have appealed for international solidarity in their struggle with Erdogan fearing that the wave of popular support for the demonstrations could become a new Gezi - the huge protests in 2013 that garnered international support and nearly brought down the government.
The statement adds: "Academics have been targeted by the Turkish state with thousands sacked and blacklisted for signing a petition calling for a peaceful resolution to the so-called Kurdish question. Instead of listening to the reasonable demands, President Recep Tayyip Erdogan branded them terrorists.
The attacks on students have rightly been condemned by trade unions, academics and political parties inside Turkey, including the opposition Peoples' Democratic Party (HDP) who's MPs were blocked from the university as they tried to meet with students and prevent the arrests. The university must be allowed to elect its own rector and academic freedom and freedom of expression must be restored."
PIK demands "the immediate release of all students and their supporters held by the Turkish state and for all charges to be dropped.
We demand the British government ends arms sales to Turkey until such a time as democracy is restored and all students and political prisoners are released."
In addition, PIK supports "the call made last week by the Trades Union Congress along with Turkish trade union confederations Kesk and Disk to suspend the recent post-Brexit trade deal until Turkey stops its attacks on democracy, workers rights and freedom of expression." 
To sign this statement email PIK: [email protected] and include a solidarity message which we can pass on to the students.