Visit to Asrın Law Office: No solution unless Abdullah Öcalan is liberated
Delegations from the HDK, HDP, and DBP paid a visit to Asrın Law Office. During the visit, it was said that only with the liberation of Kurdish people's leader Abdullah Öcalan, would make a solution to the Kurdish crisis possible.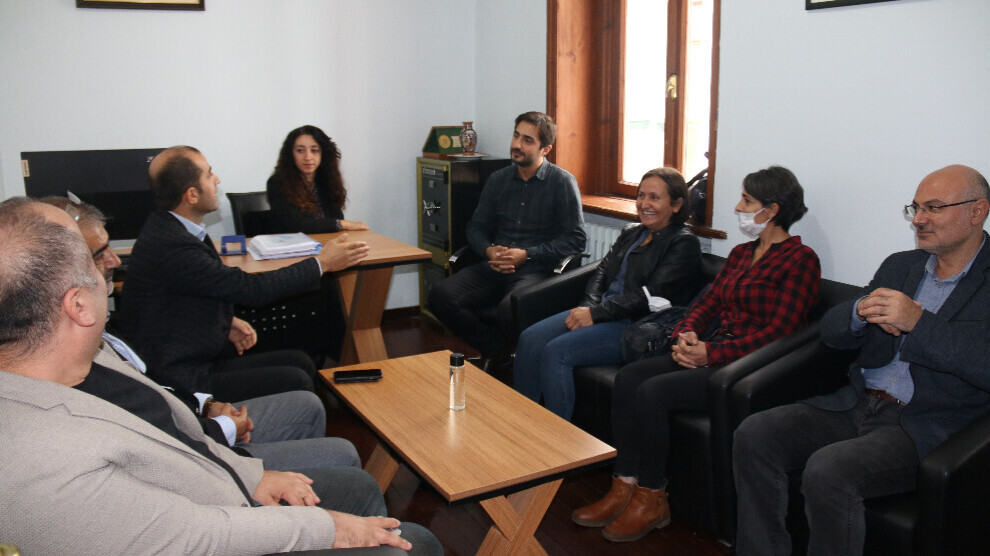 Peoples' Democratic Congress (HDK) co-spokesperson, Cengiz Çiçek, Democratic Regions Party (DBP) co-chair Keskin Bayındır, and Peoples' Democratic Party (HDP) Mardin MP Pero Dündar led a delegation to that visited Abdullah Öcalan's lawyers at the Asrın Law Office in Beyoğlu, Istanbul. The delegation was met by lawyers Emran Emekçi, Raziye Öztürk, and Rezan Sarca.
'Our goal is the freedom of Mr. Abdullah Öcalan'
According to DBP co-chair, Keskin Bayındır, the conspiracy and isolation that has been going on for 23 years still continues today. Bayındır talked about the struggle against isolation, pointing out that Abdullah Öcalan offers solutions to all of the Middle East's problems, particularly the Kurdish one. Bayındır said: "In this ongoing battle, the Kurdish people want to achieve Mr. Öcalan's liberation. We are here today to assist and sustain this process. We shall continue the legal, political, and social battle that you started."
Bayındır, referring to continuing negotiations to solve the Kurdish question, said that "the Kurdish political movement do not have any debates about who is the interlocutor on the Kurdish question. It has never occurred before, and it will never happen: Mr. Öcalan is the person to whom the Kurdish matter should be addressed."
'The real solution is the end of isolation'
In condemning the international conspiracy against his client, lawyer Rezan Sarca said that isolation was intended to separate Abdullah Öcalan from the Kurdish people. Sarıca said: "With this visit, you have demonstrated that Mr. Öcalan will not be forgotten or isolated. Mr. Öcalan has an unshakable relationship with both the Kurdish people and global human rights. The real solution to the Kurdish conflict is to end Mr. Öcalan's isolation and ensure his freedom."