Vigil in front of UN: Shengal's status should be recognized
As every Wednesday, Kurdish activists protested in front of the UN headquarters in Geneva against the international silence on the Turkish attacks on Kurdistan. This week they protested for Shengal on the 7th anniversary of the ISIS genocide.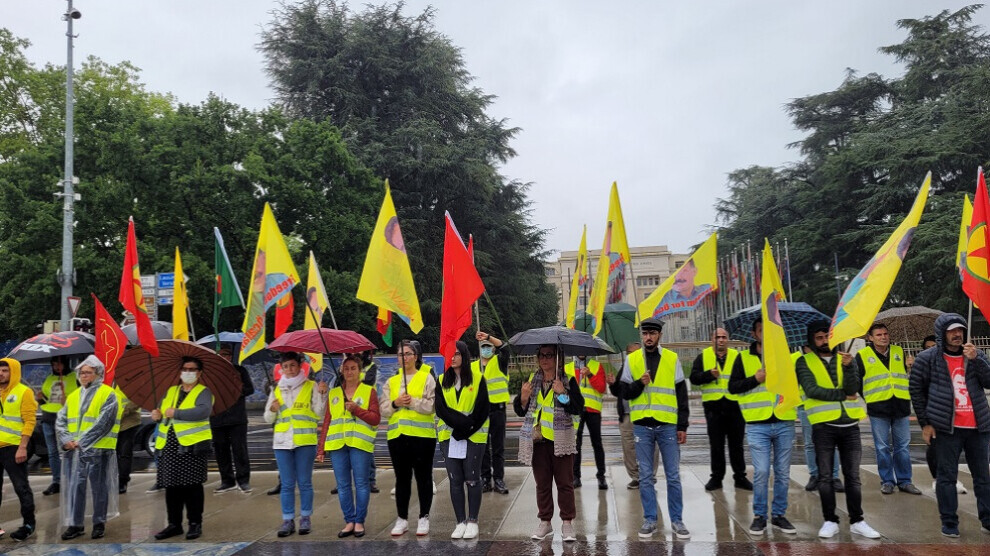 Every Wednesday for the past six months, since January 24, Kurds have protested in front of the UN headquarters in Geneva against the international silence regarding the Turkish attacks on Kurdistan. The protest action was launched by the Democratic Kurdish Community in Switzerland (CDK-S) as part of the "Against isolation, occupation and genocide - time for freedom" campaign.
At this week's action, the activists protested the Shengal massacre on its 7th anniversary and commemorated the victims of the genocide by ISIS.
The commemoration led by the Swiss Kurdish Women's Movement (YJK-S) began with a minute of silence for the victims of the Shengal massacre in August 2014.
Speaking at the commemoration, Berivan Avcı, an activist of the YJK-S said, "7 years ago, in the massacre against Yazidi people, thousands of Yazidis were slaughtered, thousands of Yazidi women were sold in slave markets and hundreds of thousands of people were forced into migration. The wounds of the people are still fresh. The ISIS gangs were repelled thanks to the struggle of the HPG guerrillas and YPG/YPJ fighters.
The will of Shengal's people and Shengal's status guaranteed by international states should be recognized. In this sense, the UN should fulfil its responsibility and take the necessary steps."
Subsequent to the speech, YJK-S activists staged a theatre play narrating the persecution and torture suffered by Yazidi women.
The commemoration ended with the slogans such as "Jin, jiyan, azadi" (Woman, Life, Freedom).