Victims of Ankara massacre commemorated
At the 68th month anniversary of the 10 October 2015 massacre in Ankara, a commemoration was held where the massacre was carried out.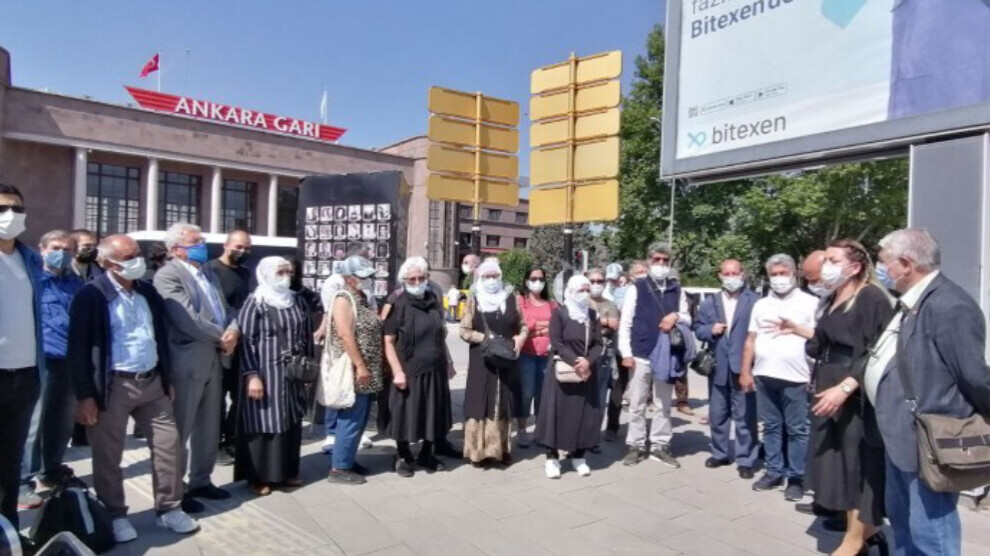 In Ankara, a number of people gathered at Train Station to commemorate the people who lost their lives in the bomb attack that targeted a peace demonstration on 10 October 2015. The commemoration was also participated by the families and relatives of the victims.
Speaking here, Chair of October-10 Union (10 Ekim-Der) Mehtap Sakinci Coşgun recalled that similar massacres had been carried out in Amed and Suruç before the one in Ankara.
Coşgun said, "All massacres must immediately be enlightened" and mentioned the hearing of trial for the October 10 Ankara Massacre on June 9th. She continued, "The court has just started to listen the witnesses and the report of civil inspectors has just come up. Range of massacres were blatantly carried out although they could well have been prevented. We advocate the right to live. We indicate "public responsibility" and demand every person and all the institutions involved in massacre to be prosecuted. We have been pursuing a struggle for justice for 68 months and will never give up the fight for our people who lost their lives. The hearing will resume on September 3th. So far, we have experienced a strong and fair solidarity and we hope that this solidarity is maintained in the coming period."
Recalling the talks with Ankara Metropolitan Municipality for building a monument in front of the train station, Coşgun demanded the processes to be accelerated. She said, "We want a monument on the 6th anniversary of the massacre."
Zöhre Tedik, mother of Korkmaz Tedik who died in the massacre called for participation to the next court hearing.
Ishak Kocabıyık who was injured in the massacre stated that they will never give up the discourse of fraternity, peace and justice. "These hearings and pressures will not end until we say our final word," he added.