Underlying reasons for Erdoğan-Masrour Barzani meeting in the US
Turkish President Erdoğan and Southern Kurdistan intelligence official Masrour Barzani will also be in the US at the same time. This is no coincidence.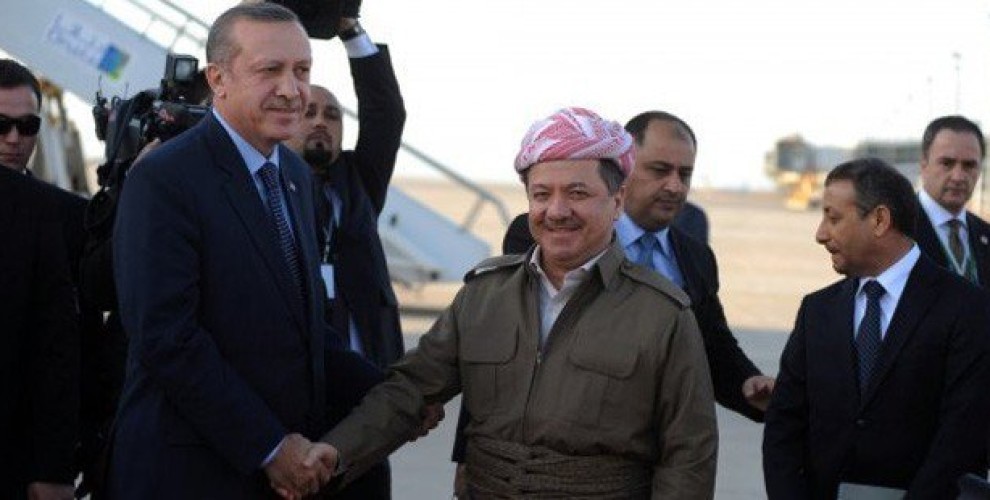 Turkish President Tayyip Erdoğan will be visiting the US soon. KDP President Masoud Barzani's son and Southern Kurdistan intelligence official Masrour Barzani will also be in the US at the same time with Erdoğan. This is no coincidence. It is obvious in every sense that this is a planned meeting with a strategic purpose. It would be good to look at the background of the Erdoğan's and Barzani's visit to the US.
SHENGAL
Erdoğan is planning to put forward a major project during his visit to the US. Few days before his visit, US President Donald Trump has approved a plan to supply weapons and military equipment to the YPG forces. The approval of this plan did not make Erdoğan change his project, as he did not cancel his planned visit which will focus on "the situation in Iraq and Syria", as was announced long before.
What "the situation in Iraq" refers to is some plans on Shengal. The fact that Erdoğan and KDP have a joint plan on Shengal reveals itself in the statements made and threats uttered by both sides. The plan is to make the guerrilla forces leave Shengal. The remarks of KDP's top officials and Erdoğan and all AKP officials did all sing the same tune. The threats against guerrillas and YBŞ forces in Shengal were aimed for pushing guerrillas out of Shengal. To this end, they started a ground attack on March 3, after which Turkish jets conducted a bombardment on April 25.
Following these attacks, some meetings took place between the US and Iraqi central government. These talks reportedly witnessed an agreement for the protection of Shengal from Turkey's attacks and KDP's threats, and for the deployment of military forces in order for the obstruction of a probable war in Shengal. Debates continue that forces affiliated to the US and Iraqi central government could be deployed in Shengal in the following days, through which the joint goal and aim of AKP-KDP will be obviated. For this reason, it is evident that both the AKP and KDP will work to make sure that the US does not dispatch troops to Shengal. This could be one of the reasons why Erdoğan and Masrour Barzani will be in the US on the same date.
ROJAVA PLAN
For sure, Erdoğan and Masrour Barzani will have Rojava and Northern Syria on their agenda during the US visit. It is not known which topics they have on the agenda which, however, clearly consists of the Raqqa operation, Manbij and Rojava gangs (peshmergas). Yet, Trump decided to arm YPG short before the visit, which has not changed but most probably strained the AKP-KDP's plans on their agendas. It seems that AKP and KDP will put forward their plans in a revised version and have them approved after Trump's decision to arm YPG.
It seems unlikely that the US will make a change in its Raqqa plan, especially after its decision to supply arms to the YPG. For this reason, one of the topics on AKP-KDP agenda has dropped already. After Tabqa, the following and final step will be Raqqa. Besides, the launch of the fourth phase of the Operation Wrath of Euphrates for the liberation of the Jallab Valley north of Raqqa on April 11 has kind of marked the start of the campaign to liberate Raqqa. Following a 15-day suspension, the fourth phase was relaunched on May 9, since when a rapid advance towards the Raqqa city center continues.
In consideration of their Raqqa plan, Erdoğan and Barzani will obviously endeavor to have a plan based on Rojava gangs approved by the US. They will probably depict the Rojava gangs as Rojava's armed forces, and demand that the US administration provide arms for the Rojava gangs as well. They will try to have the Rojava gangs officially recognized just like YPG.
It is not a secret to the US administration that the majority of these gangs that Erdoğan and Masrour Barzani tries to have approved is made up of former al-Nusra gangs. Images of some of them such as Usama Hilali and Celal Birhek while in al-Nusra ranks had emerged before. In addition, the US is also aware that all these gangs are trained by Turkish intelligence MİT and paid by Turkey. On the other hand, while it is apparent that these gangs are involved in Turkey's plan to invade Syrian lands extending from Jarablus to al-Bab, would the US approve this dirty game of AKP and KDP? Seems unlikely.
THEY MAY FACE WITH AN UNEXPECTED APPROACH
Recep Tayyip Erdoğan and Masrour Barzani may face with an unexpected approach during their concurrent visit to the US, on which they have several expectations. The US administration and Trump may reject their aspirations that are based on dictatorship, also now that the region's peoples are more in demand of democracy after the Rojava and Northern Syria experiences. Moreover, both the AKP and KDP are known for their sectarian policies that became menace to humanity. They are known to have relations with gang groups such as ISIS, al-Nusra and Muslim Brothers in connection with their sectarian policies.
For this reason, they may even give an account for the Shengal and Qereçox attacks that they organized jointly by themselves without the knowledge and coordination of other forces, let alone have their plans approved.
There are several indications that they may end up in a loss of what they have while expecting more. These indications reveal themselves as an outcome of their practices executed in their joint plans made so far.