Turkish Defense Minister and Chief of General Staff visit Hewler
Turkish Defense Minister Hulusi Akar and Chief of General Staff Yaşar Güler have traveled to Hewlêr for talks with officials.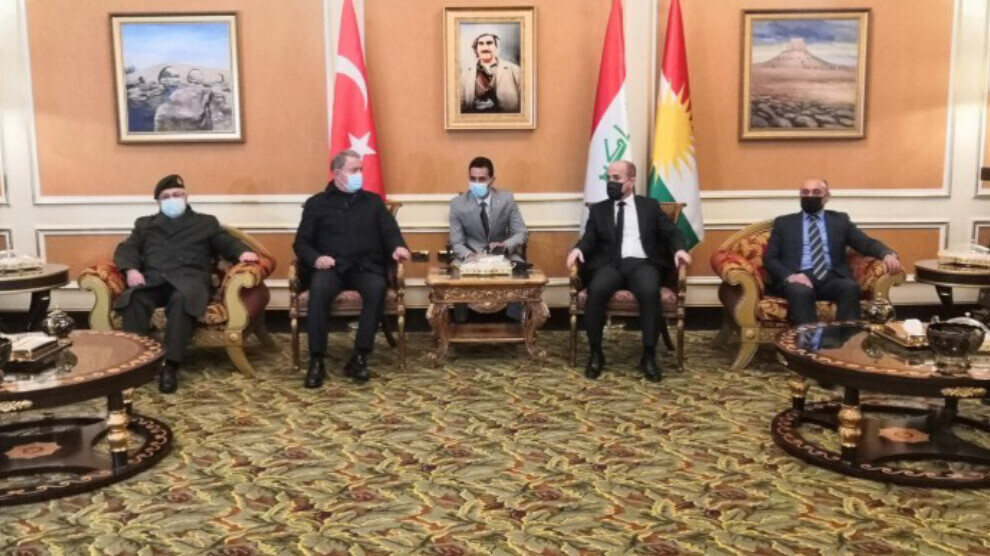 A Turkish delegation led by Turkish Defense Minister Hulusi Akar and Chief of General Staff Yaşar Güler arrived in Hewlêr (Erbil) on Tuesday for talks with the regional Kurdish leadership. The delegation met with Iraqi President Barham Salih and Prime Minister Mustafa al-Kadhimi on Monday.
According to the written statement issued by the Prime Ministry office after the meeting, the "common interests" of both countries and "strengthening military cooperation" were discussed.
The sovereignty of Iraq was also discussed at the meeting. The statement made in the name of Mustafa al-Kadhimi said that other disputes debated during the previous visit of Iraqi Prime Minister to Turkey were also handled.
The Presidential office also made a statement regarding the meeting and said that respect for the sovereignty of Iraq and relations between Turkey and Iraq were tackled.
No more detailed explanation was given regarding both meetings.
After these meetings, the Turkish delegation traveled to Kurdish capital Hewler. The Turkish delegation was welcomed by Peshmerga Minister Şoreş İsmail, President of the Kurdistan Region Presidency Council Fewzi Hariri and Foreign Affairs Officer Sefin Dizeyi at Erbil International Airport.
Akar and Yaşar first met with KDP leader Masoud Barzani. The Kurdistan Region Foreign Affairs Office Official Sefin Dizayi also attended the meeting in Hewler. The content of the interview was not disclosed.
The Turkish delegation is expected to meet with Kurdistan Region's President Nechirvan Barzani and Prime Minister Masrour ​​Barzani.
The visit comes at a period when the Turkish occupation and attacks are spreading in Southern Kurdistan, Northern Iraq.
No statement was made regarding the content of the talks to be held.