TUC Congress demands freedom for Öcalan
Britain's 6 million strong trade union movement have agreed to back a mass campaign for the release of jailed Kurdish leader Abdullah Öcalan.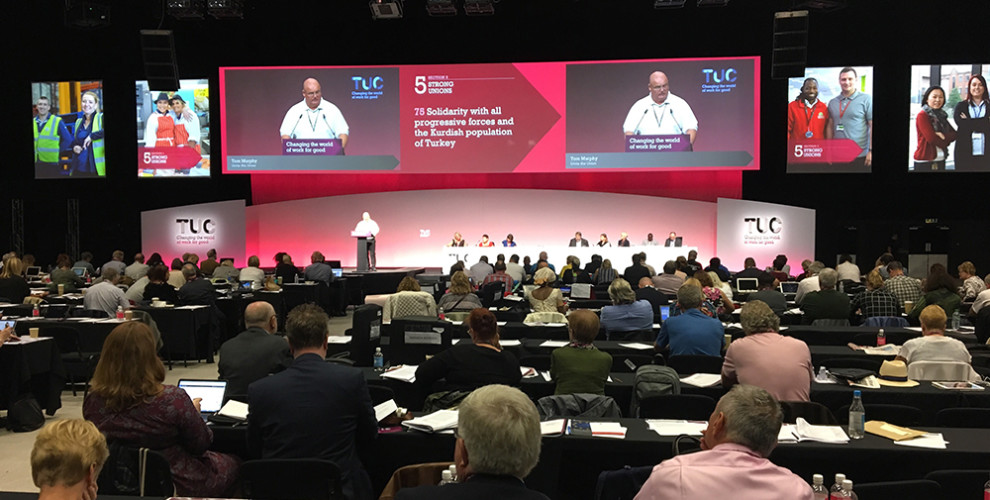 At its annual gathering in Brighton earlier this week the Trade Union Congress, which represents 50 British trade unions, gave its unanimous support to a motion demanding freedom for Öcalan and the reconvening of peace talks between the Turkish government and the Kurdistan Workers Party (PKK).
The support represents a major breakthrough in the international campaign for the release of Öcalan whose incarceration on Imrali island, where he has been held for 18 years, has been compared to that of Nelson Mandela.
Delegates agreed to affiliate to the British section of the Freedom for Öcalan campaign and called for the release of all political prisoners, the restoration of press freedom and an end to the state of emergency which has been in place since last years failed coup attempt
Unite's Tom Murphy, who moved the motion, said that under President Erdogan, Turkey was in danger of descending into fascism. He also said that Öcalan was a willing and serious partner for peace who should be released immediately, and called on all trade unions to become affiliates of the Freedom for Öcalan Campaign.
Jo Pitchford from GMB said that Öcalan's freedom was crucial to building a democratic future in Turkey and the Middle East while Kathy Wallis of NASUWT highlighted the plight of teachers who have been targets for repression by the Erdogan regime.
Newly elected TUC President and General Council member, Sally Hunt, paid tribute to the British unions supporting their beleaguered colleagues in Turkey who have been under sustained attack since an abortive coup earlier this year.
Speaking on behalf of the Freedom for Öcalan Campaign, Simon Dubbins said, "It's tremendous that the TUC has once again demonstrated it full commitment to build and strengthen solidarity with all those fighting for freedom and democracy in Turkey and the wider region. The unanimous call for the release of imprisoned Kurdish leader Abdullah Ocalan shows TUC affiliates understand the critical role that Öcalan can play in bringing peace and justice to Turkey and the wider region."
Campaign Secretary, Steve Smellie said, "This is a great step forward and shows the TUC is living up to its proud history of international solidarity. It's vital that we now use this momentum to further build a mass movement, both here in the UK and internationally, that demands and works for the release of Abdullah Öcalan."
'Solidarity with all progressive forces and the Kurdish population of Turkey'
"Conference is appalled at the continuing repression and massive human rights abuses taking place at the hands of the Turkish government. It's clear that since President Erdogan failed to achieve an electoral majority in the June 2015 election, his government has embarked on a war against the Kurdish population, criminalisation of opposition groups, closing down the free press and intimidation and threats against anyone who challenges his rule. The failed coup attempt has been used as an excuse to radically speed up this process.
Conference is further appalled at the international actions of the Turkish government , its actions in Syria demonstrate clearly it's more intent on fighting the progressive Kurdish led administration in Rojava rather than defeating so called Islamic State.
Conference calls on the Turkish government to:
•Immediately end the state of emergency, restore all democratic and press freedoms and restart the peace process with the Kurdistan Workers Party (PKK);
•Release all political prisoners, including the imprisoned HDP leaders and members of parliament and jailed Kurdish leader Abdullah Ocalan;
•Withdraw its forces from Syria, and stop attacking Kurdish led forces;
•Immediately cease support and backing of Jihadi groups.
Conference calls on the UK government to maximise pressure on the Turkish government to comply with the actions listed above and calls on all unions to affiliate and support the work of the Peace in Kurdistan and Freedom for Ocalan campaigns. Conference calls on the TUC to organise a solidarity delegation to Turkey including a visit to the Kurdish areas."