Thousands march for Afrin and condemn silence in Brussels
Thousands of Kurds and their supporters marched on the streets of Brussels to protest Turkey and NATO for their role in the invasion of Afrin. Protestors urged NATO members to end their support to Turkey.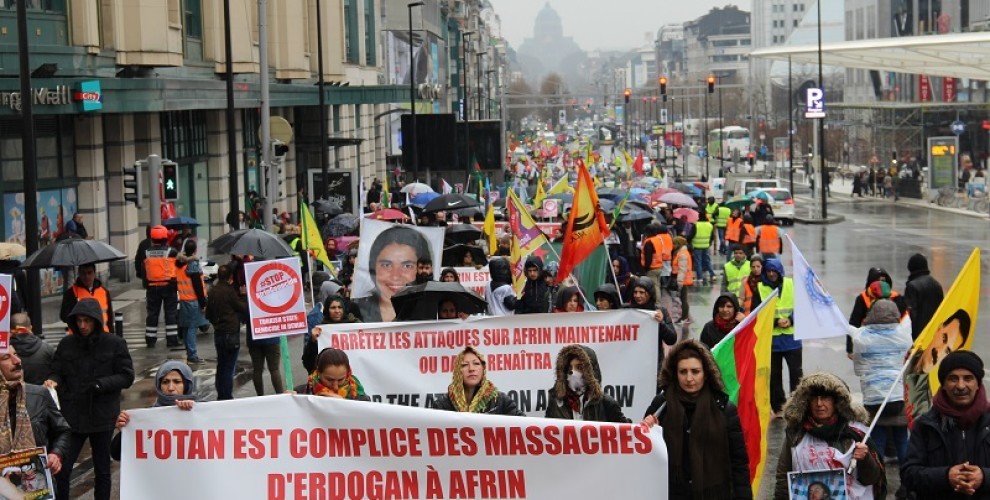 On Tuesday, Afrin Platform organized a demonstration in Brussels to protest Turkey and NATO member states for their role in the invasion of Afrin region by the Turkish state and affiliated gangs.
The demonstrators gathered in front of Brussels North train station under YPG, YPG, YPG and Rojava flags. They also carried posters of Kurdish leader Abdullah Ocalan, Turkish revolutionary leader Ibrahim Kaypakkaya and banners that condemn Erdogan and Turkey.
After marching about four kilometers on the streets of Brussels, the protestors held a rally at Schumann Square, in front of the European Council.
Speaking on behalf of the Leftist Front, Eric Buyll said, "The Council of Europe and NATO are becoming accomplices of Turkey by remaining silent. Turkish state is massacring civilian people in Afrin. Hundreds of thousands of people had to leave their homes and are suffering. But all world's powers are silent. By remaining silent they are virtually supporting Turkey. NATO is accomplice of Turkey in this attack. This is a crime against humanity".
Emily Burns from Rosa Campaign said that they are in solidarity with the Kurds and added "We are with the democratic powers who are fighting against imperialists and colonialists. We have to fight against the oppression and exploitation. Let's enhance the solidarity against imperialism and capitalism and raise the struggle of women."
The meeting ended with slogans condemning the NATO and European Union member states.