German activists: The fight against the isolation is our fight
German activists who held a 3-day hunger strike in Berlin demanding an end to the isolation said, "The fight against the isolation is our fight too."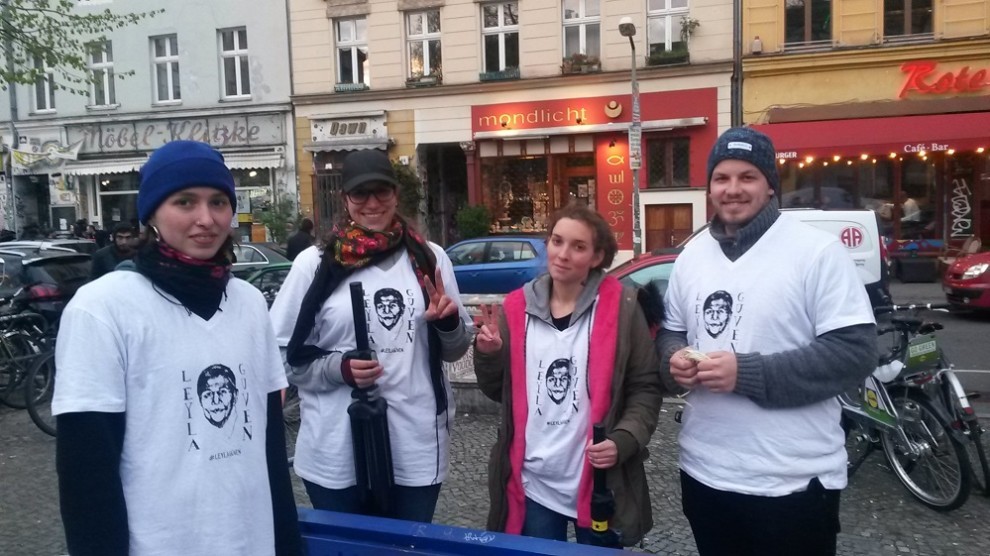 6 German activists held a 3-day hunger strike last week to support the hunger strike launched by DTK Co-chair Leyla Guven demanding an end to the isolation imposed upon Kurdish People's Leader Abdullah Ocalan.
The activists spoke after the protest that continues at a tent put up in Heinrichplatz in Berlin's Kreuzberg district with the motto, "Leyla - Your fight lives in our hearts" and said the fight against the isolation will continue. The activists said there are over 7.000 prisoners on hunger strikes still, as well as Leyla Guven herself, and added: "Their fight is our fight too."
Activists Hannes and Klara spoke to the ANF about their hunger strike to support the hunger strikers. Klara said they took on the protest to show that they stand with the hunger strikers and continued: "We saw it as a necessity to show that the fight against the isolation is our fight too, and that was why we decided to do it."
"OUR PROTEST HAD A POSITIVE ATMOSPHERE"
Klara said the war in Kurdistan can only end through a dialogue to be built with Ocalan and added that they aimed to hold a public effort as well as a protest between April 12 and 15. Klara said they worked to inform the public constantly in the tent they set up in a central part of the Kreuzberg district and added: "Our protest had a positive atmosphere, people would come up and ask how they could help."
Activist Hannes said during their protest, they saw that the German public didn't know much about the hunger strikes. Hannes said this is due to the German mainstream media's censorship against the hunger strikes and the isolation in Imrali: "We tried to break through this censorship, and to inform the people, Berliners in particular, about the hunger strikes, at least to a degree."
PASSED OUT THOUSANDS OF FLYERS
German activist Hannes said they passed out thousands of flyers on the hunger strikes, the isolation in Imrali and Ocalan's role, as well as having talks with the people face  to face. The activist continued: "Unfortunately, due to the German state's tight friendship with Turkey, there is huge pressure against the Kurdish movement here. That is why the media is engagin in censorship. We believe we can shape public opinion ourselves and relay to the public the struggle of the Kurdish people."
The German activists also said the isolation imposed upon Kurdish People's Leader Abdullah Ocalan by the Turkish state is not just the problem of the Kurdish people, and that all who favor democracy, human rights, freedom and international solidarity should fight against the isolation.
The activists also said the German state should take action for the hunger strikers and that the German mainstream media should open their eyes to this issue: "A joint struggle is a must to break the isolation which symbolizes the violation of the human rights bills the Turkish state has signed. And we will continue to stand with the resistance against the isolation as necessitated by the internationalist struggle."