Tens of thousands including Kurds join today's march in Hamburg
As demonstrations in protest at the G-20 Summit in the German city of Hamburg continue for a week, tens of thousands including Kurds will be joining a mass march today.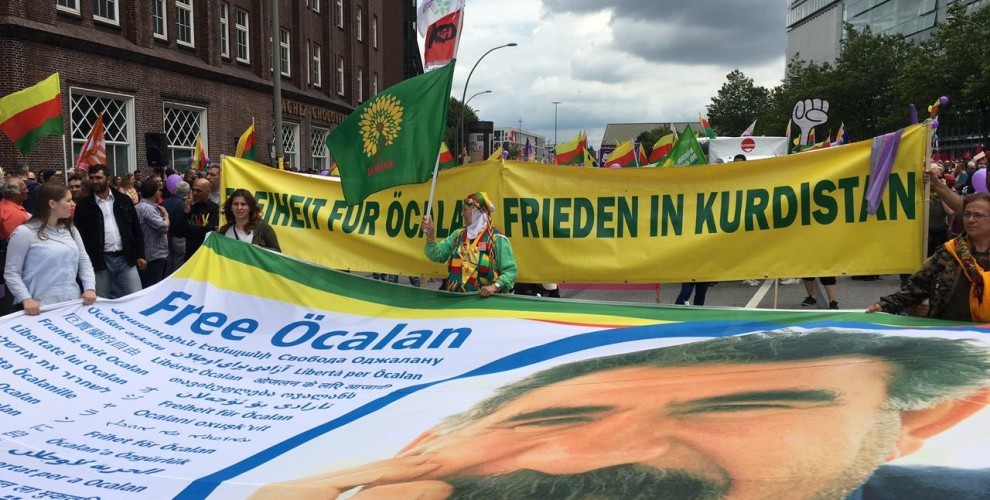 Protest demonstrations continue for one week now against the G-20 Summit that kicked off in Hamburg, Germany yesterday and will continue today.
The protest actions that started with the 'Alternative Summit' continued with street demonstrations. As thousands from across Germany and other European cities gathered in Hamburg in protest at the Summit that is attended by 20 countries including the USA, China, Russia and Germany, the German police did not allow demonstrations to take place, brutally attacking the masses and leaving dozens injured amid a severe crackdown.
Demonstrators put up barricades on streets as protests intensified in central locations such as Altona, St. Pauli and Sternschanze that witnessed strong resistance against the brutal police forces of the German state. During clashes that continued into the morning, several people were injured and detained while Hamburg police claimed that 200 policemen got injured.
"FREEDOM FOR ÖCALAN, PEACE IN KURDISTAN"

One of the greatest demonstrations against the G-20 Summit is a march to be staged today, supported by 70 organisations and institutions and German polical parties including DGB, Ver.di and Die Linke.
Kurds are also attending the march under the representation of Democratic Kurdish Society Center in Germany (NAV-DEM), the biggest umbrella organization of the Kurds in Germany.
The march will kick off in front of the central train station of Hamburg and end with a rally at St. Pauli following a walk of some 4 km. Representatives of various establishments will make statements here.
The mass will march behind an internationalist banner representing all the institutions and Kurds will march right behind this banner with the motto "Freedom for Öcalan, Peace in Kurdistan". Kurdish demonstrators are holding banners saluting the Rojava Revolution and the Kurdish Freedom Struggle.
As the march of tens of thousands is about to start, "Bijî Serok Apo" [Long Live Leader Öcalan] and "Bijî Şoreşa Rojava" [Long Live Rojava Revolution] slogans are being chanted already in the cortage of the Kurds.
Another march is planned for Saturday evening with the participation of tens of thousands.
A great really expected to be joined by over a hundred thousand people will be held at 11:00 Sunday morning.