Syria: who could do what? What the dangers?
All signals indicate the West could launch an "attack" against Syria at any moment. But what made tensions rise and why we might be on the verge of a new phase of this war?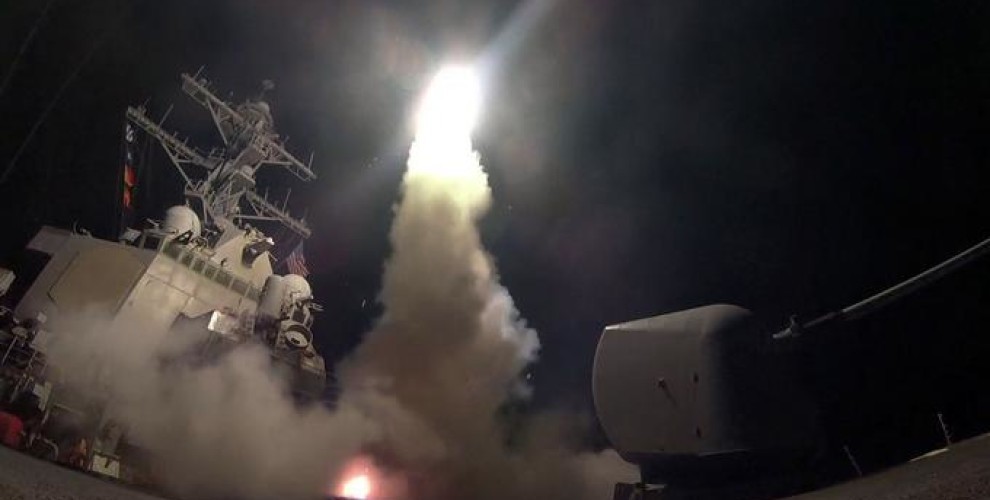 Since the beginning of the Syrian war, balances have been changed and redefined. Cards are changing hands and are being redistributed. Red lines are established, erased and redrawn.
The new pretext: the 7 April attack
The last reason brought on the table was the attack on Duma on April 7th. The UN Peacekeeping forces and the civil society organization named Syrian American Medical Society stated that the attack had allegedly killed more than 40 people who showed signs of "toxic gases". Duma was the last area near Damascus where there were armed groups. That said, more than 500 people were allegedly affected by the gas. According to the denouncing organizations, the gases smelled similar to chlorine. It doesn't seem possible to verify this information through independent sources.
The Syrian Human Rights Observatory does not confirm that such a chemical attack actually occurred, but says there are 70 cases reported of respiratory problems.
Western governments, particularly the US, accused the Damascus regime of using chemical weapons. Russia and Iran, which have an alliance with the Damascus regime, argued that this was yet another conspiracy and provocation.
APRIL 8: On April 8, US President Donald Trump called President al-Assad "an animal" and threatened he will "pay a heavy price". Trump also pointed to Russia and Iran as responsible.
The Moscow administration warned Washington about any "military intervention", adding that "it will be met with an adequate response". The Damascus regime made similar comments.
APRIL 9: On April 9, a military air strike was carried out in the Humus region and at least 14 people, 7 of them Iranian soldiers, died. Moscow, Tehran and Damascus blamed Israel for the attack.
Russian President Vladimir Putin reacted talking of "provocations and speculation". Russian experts have revealed no evidence of a chemical attack in the Duma.
Washington then sent signals that they could launch a military attack at any moment. The US destroyer Donald Cook, carrying 60 Tomahawk, left the Larnaca port of Cyprus and settled near Syrian territorial waters.
APRIL 10: On April 10, the Syrian army was on high alert for the following three days. It transferred a great number of military forces and weapons from its airports and bases to Russian bases.
The same day, the International Organization for the Prohibition of Chemical Weapons announced that they would send a team to Syria. UN Secretary-General Antonio Guterres asked for an impartial investigation and unrestricted access. US President Trump canceled his visit to Peru [where the Americas Summit is to begin on Friday] to formulate America's response to Syria.
Also on April 10, the French government said, "If the red line is crossed, expect an answer". According to France, after President Emmanuel Macron and President Trump shared information, the use of chemical weapons is confirmed. President Macron explained that if Paris will act, the Damasco regime's chemical capacities will be targeted.
Alexander Zasypkin, Russia's ambassador to Lebanon, warned: "If the US attacked, we would respond by hitting their weaponry". At the UN Security Council, Russia vetoed the United States decision to designate an independent investigation mechanism on the use of chemical weapons. Russia's two proposals did not get enough votes.
APRIL 11: On April 11, the US President challenged Russia on Twitter. Trump shared the following message: "Russia is swearing that any missile to be thrown into Syria will be hit. Prepare yourself Russia, because these missiles are super, new and intelligent. You should not be allied with an animal that gassed his own people and enjoyed it".
US Defense Secretary Jim Mattis also announced that they are ready to offer US President Trump military options. "Our intelligence services are still evaluating the information coming from our allies", Mattis said.
The Kremlin stated that the use of chemical weapons in the Duma was a pretext to try and justify the use of force. The Russian army also announced that from Thursday it would deploy military police to Duma. Putin said: "The situation in the whole world is worrying, we hope that common sense will prevail." And added: "Russia wants to build relations with other countries on the basis of international legal laws".
On April 11th, another statement from Washington came. Sarah Sanders, the White House Spokeswoman, said: "All options are on the table". On the question of the US's possible response to the "chemical" attack, she added: "The final decisions has yet to be made".
Who has what power?
Following these recent developments, "what goals", "which dangers" and "what possibilities" are the questions everybody asked.
Together with the American destroyer Donald Cook in the Mediterranean waters of Aquitaine is a French missile carrying ship. It is stated that these two ships can also get help from an American or British submarine. According to the Daily Telegraph newspaper, British Prime Minister Theresa May ordered British submarines to enter the fire zone for Syria. Speaking to the BBC, sources said that May appears ready to take a decision on military intervention in Syria without parliamentary approval.
Various are the scenarios being spoken in France, one of the first country to issue a warn to Syria.
According to Le Figaro, once the green light is given, French war planes will leave from France, not from the bases in the Middle East. There are also questions about the impact capacity of France.
The war messages from the US are causing harsh reactions inside France. Years later, talks about the "red line" appeared again in France. This line was drawn by former US President Barack Obama in August 2012 and threatened with severe consequences Bashar Al-Assad, should he decided to use chemicals.
In August 2013, the US President renounced on launching air strikes against Syria, as this time Russia sent a file about chemical attacks. French President François Hollande, who said that he was ready to support the US at the time, said in an interview he gave to Le Monde newspaper recently: "I did not want to go alone".
Five years later history repeats itself. Now the question is: Will Macron be ready to go a step further?
Which are the targets?
What targets will be hit in a possible attack? The super powers gave messages that Syria would be targeted in its chemical weapons producing structures. A number of air bases were suspected in Syria for chemical weapons replenishment. First of all the El Shayrat military base near Humus. This base was hit last year by the USA with 59 Tomahawk fuses.
In the past, the Israeli army bombed a branch of the Syrian Center for Scientific Research located near Mesyaf in the Tartus region. The US and Israel blamed this center of helping to develop sarin gas.
Speaking to AFP, Jennifer Cafarelle, an analyst at the Institute for the Study of War, noted that one of the possible targets might be the Dumer military airport, 40 kilometers northwest of Damascus. This is claimed to be the place where chemical weapons used for the attack on Duma last week, were coming from.
On Monday April 9th, Israeli forces bombed the T-4 military air force. Here were Syrian and Iranian forces and Hezbollah forces. According to Cafarella, the United States may be able to re-target it.
What dangers?
Should a military intervention actually happen the consequences are of a catastrophic scenario. Whether or not there will be such intervention, how will it be, what the results? At present, the parties seem ready to go to war at anytime.
Trump and Macron are getting ready to hit. Britain is reported to be ready.
In the face of a possible attack by these three powers, what will the Russians do? According to Didier Billion, a researcher at the International and Strategic Relations Institute, quoted in Le Parisian: "Russians could attack an American military target in Syrian territory. They have all the information in their hands".
Billion added that a military command or communications center in Manbij could be targeted. Both sides have military capabilities that they can use against each other, but most experts believe that tension will not escalate.
Expert Bruno Tertrais said: "The last words said by Russians in their generally colder messages indicate that they are panicking because they do not know what to expect from such an unpredictable Trump. There is no reason why Putin should engage in a military confrontation with the United States".
In this context tension may remain at a certain level. French President Macron also said that the French army would avoid Russian targets in Syria.
Experts do not hide their worries that a war can indeed begin at any minute, though they state that the situation today is different from that of the Cold War, and ultimately they do not expect a descent into a real war.