Solidarity with Rojava in Rome and Bologna
In Rome and Bologna protests have been staged against the Turkish war of invasion against northern Syria.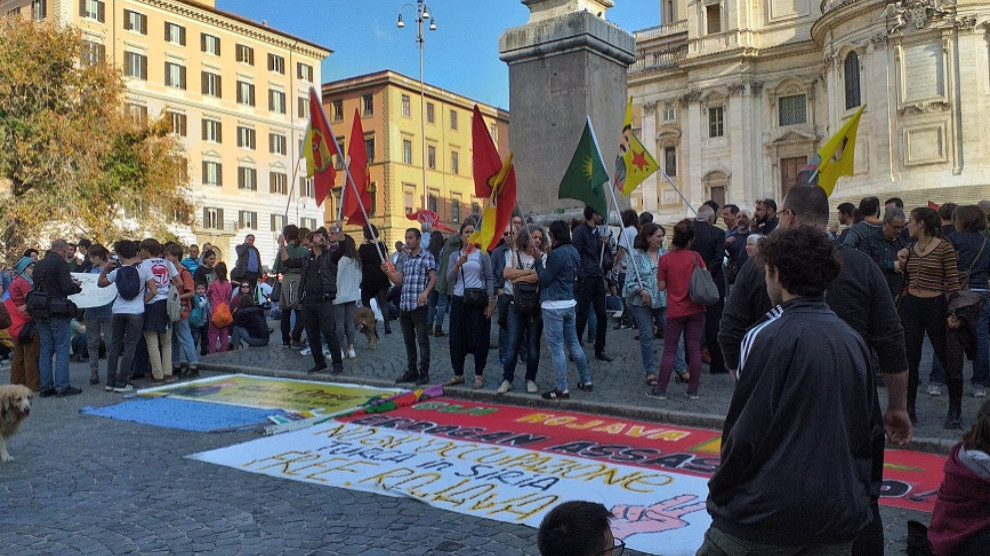 Kurds, their friends and supporters are taking to the streets today as part of a global action day to protest against the Turkish genocidal campaign seeking to invade North and East Syria.
Solidarity demonstrations have taken place also in the Italian cities of Rome and Bologna.
In addition to Kurds, many Italian anti-fascist and left-wing organizations took part in the demonstration in Rome. Anarchist activist Padgvale Valitutti said in a speech: "The war against Rojava is an operation against all of us. We will never accept it."
Hundreds of people demonstrated against the Turkish invasion of northern Syria in the university city of Bologna. The attacks, which intensified despite the alleged ceasefire with Turkey, have again led hundreds of people take to the streets in Bologna. The square in front of the train station was blocked by the demonstrators for one hour. There, a demonstration against the repression of Catalans in Spain also joined the protest action. With the banner "From Catalonia to Kurdistan - against the oppression of peoples" they showed their solidarity with the fight in Rojava.
The initiative for the demonstration was supported by, among others, Rete Jin, an Italy-wide network in solidarity with the Kurdish women's movement, as well as Non Una di Meno, a feminist movement fighting for an end to violence against women. The demonstration was led by a feminist bloc. Many other groups and social centers joined in with their speeches.
There will be a central demonstration in Milan next week.