SOHR: 300 Turkish-backed fighters sent to Libya
SOHR said on Sunday that the number of fighters who arrived in the Libyan capital Tripoli, has reached 300.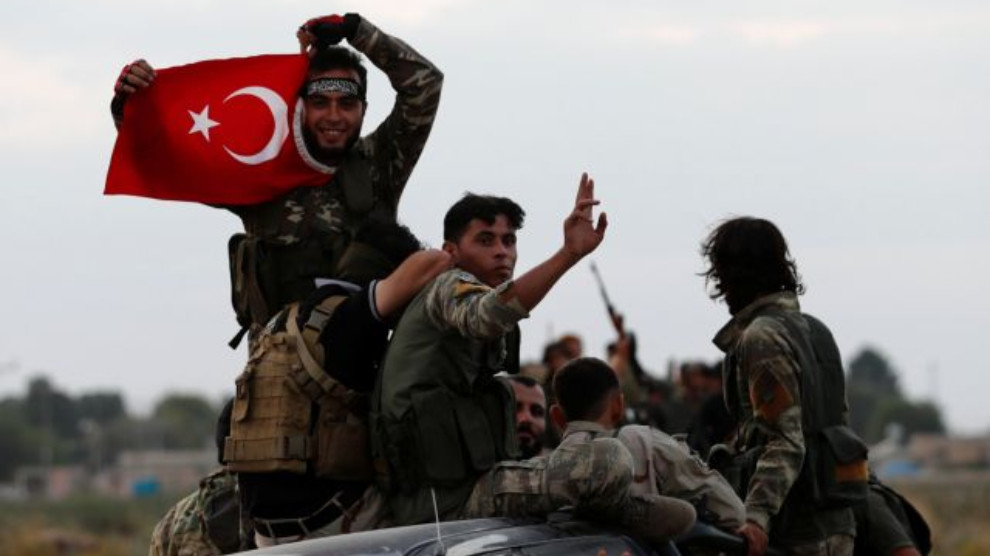 The Syrian Observatory for Human Rights (SOHR) obtained new information about Turkish operations of transporting fighters from Syria to Libya.
Citing very reliable sources, SOHR said on Sunday that the number of fighters who arrived in the Libyan capital Tripoli, has reached 300. Meanwhile, the number of conscripts who arrived in Turkish camps in order to receive training courses ranges between 900 to 1000, SOHR noted.
"Turkey offers salaries ranging between 2000 and 2500 USD for every single fighter over a three-months contract or a six-months contract, in return for heading to Tripoli. The longer the duration of contract, the more salary get the fighters. A number of fighters who have been sent to Libya are former members of the "Hazm Movement" which was disbanded years ago and whose members then joined Suleiman Shah, Sultan Murad and other factions located within Turkish-held areas in Syria" the sources added.
SOHR said they obtained audio records in which a Turkish-backed fighter was heard talking to a group of conscripts, asking them if they are ready to depart from "Afrin" to "Tripoli" the following day.
"We will move at 10:00 am from Afrin, and we are not slaves of the Dollar, but our conditions and debts push us to do this" he said.
Libyan sources said "if we collate images of Google Maps, we will find out that these fighters are gathering in Salah Al-Din area which is considered the southern entrance of the Libyan capital, and is suggested to be a high-class area as some places are watched there. According to video clips we obtained; it turned out that these members are gathering in "Takabali" camp which was affiliated previously to the Libyan Army, and came recently under control of the Turkish-backed fighters. Via Google Maps, it is revealed that a number of installations have been under construction in this camp for a month, which means that Turkey has been working on preparing it for the members of its loyal factions."
Separately, SOHR basing on "very reliable sources" said that Turkish soldiers were brought to all checkpoints and frontlines in the countryside of Tal Tamr, Ras Al-Ain and Abu Rasin, after evacuating these checkpoints of the Turkish-backed gunmen and deploying Turkish soldiers instead. The reason for such actions is not announced so far, but there are reports suggesting that this action comes to prevent these members from escaping or dealing with SDF, or prevent them from launching attacks against the regime forces present there."
SOHR has learned days ago, that the Turkish-backed factions have opened centers to register the names of people who desire to go and fight in Libya.
Sources informed SOHR that four centers have been opened in Afrin north of Aleppo, within headquarters of Turkish-backed factions.
One of these centered has been opened in the former headquarters of Asayish, under supervision of "Al-Hamzat Division", another one in the former headquarter of the Local Administration, under "al-Jabha al-Shamiyyah" supervision. The third has been opened by "al-Mu'tasim Brigade" in Qibariyah village, and the last was in Al-Mahmoudiyah neighborhood under supervision of "Al-Shamel Brigade".
The Syrian Observatory has monitored tens of people heading to these centers to join battles in Libya under Turkey's protection.
Sources confirmed that the Turkish-backed factions attract youth to join war in Libya offering temptations and rewarding salaries ranging between 1800 and 2000 US dollars for a single fighter per month. In addition to that offering, additional services are to be guaranteed by the host country.