Simonnet: For peace, PKK must be removed from the list
National Spokesperson for La France Insoumise, the largest left wing organization in France, Danielle Simonnet stressed that the Kurdish people's resistance against fascism is exemplary.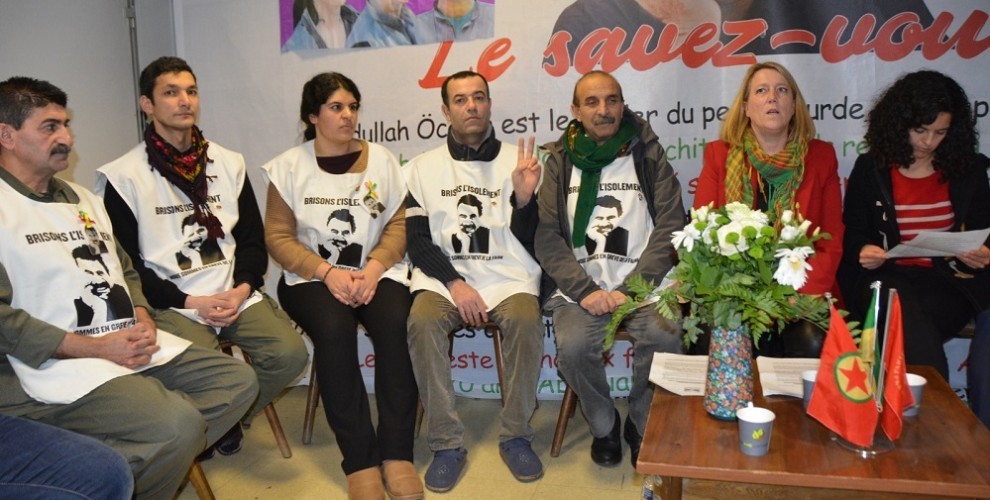 International support continues to grow for the indefinite and non-alternate hunger strike that has completed 31 days in Strasbourg. Among the supporters are MPs, elected officials and candidates from the umbrella organization La France Insoumise ("Unbowed France") under the lead of Jean-Luc Mélenchon.
Paris City Council Member Danielle Simonnet from the France Insoumise constituent Left Party (PG) visited the 14 hunger strikers in the Democratic Kurdish Society Center Strasbourg and expressed her party's support for the action. Simonnet is also the National Spokesperson for France Insoumise, umbrella party and the largest left wing force in France, and Co-coordinator for the Left Party.
"REFLECTS THE APPROACH OF OVER 10.000 KURDISH PRISONERS"
Simonnet also posted on Twitter about her support for the hunger strike and said she visited Strasbourg to support the hunger strikes started by Leyla Guven, who has been on a hunger strike against the isolation of Ocalan since November 6, and added that this reflects the common approach of over 10.000 revolutionary Kurdish prisoners.
THE ERDOGAN DICTATORSHIP AIMS TO DESTROY THE ROJAVA PROJECT
Danielle Simonnet stressed that Erdogan's policies are dictatorial, fascist, nationalist and regressive: "These policies have come down on the Turkish and Kurdish peoples. And, Kurds have been the best fighters against ISIS and the best allies to France. Today, Erdogan's Turkey threatens to attack Rojava as they also prepare to do so. But Rojava is a pluralistic, real project in Syria focused on democracy and peace. This project is a socialist, ecologist and feminist project that transcends religions and ethnicities," said Simonnet and pointed out that the attacks aim to destroy this very reality.
PKK MUST BE REMOVED FROM THE TERRORIST ORGANIZATIONS LIST
Danielle Simonnet said a possible attack by Turkey must definitely be prevented and stressed the need to organize an international peace conference.
Simonnet said the first condition for such a peace conference would be the recognition of the Kurds as a party and called on France and the European Union to remove the PKK from the list of terrorist organizations. Simonnet said France and the EU have responsibilities and duties for Kurds and added that, like the dozens of MPs who announced support for the Kurds recently, their support will also continue.