Protests grow in Iran, while regime threatens demonstrators
Iran and Rojhilat'ta 'gasoline rebellion' continues. The regime cut telephone and internet lines, while Spay Pastaran and Khamenei's representatives threatened the demonstrators.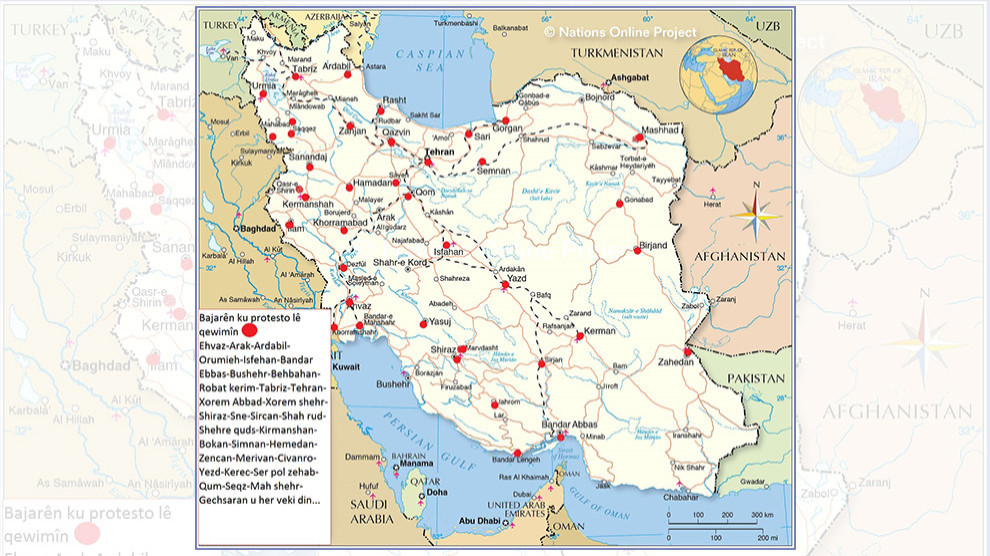 The popular uprising that started last Friday after the increase in oil prices in Iran and spread to all of Iran's 31 provinces and Rojhilat in a short time has not stopped.
The Iranian regime has cut internet lines but since yesterday morning has also cut landlines to avoid news of what is going on to be spread abroad and also to avoid communication among the demonstrators in different cities and regions.
New cities joined the protests
Despite the regime repression new cities in Zencan, Simnan, Hemedan joined the demonstrations.
No communication makes it difficult to have information
The main problem with having no internet and no phones, i.e. no communication is that it is impossible to have information, also as to how many demonstrators have been killed and wounded so far.
It was learned that the Iranian security forces used real bullets but there are conflicting information on the number of dead, wounded and detainees.
According to some sources, more than 30 people have been killed, a thousand people have been injured and 6 thousand people have been detained in the demonstrations. According to other sources, the number of dead is over 200, the number of wounded exceeded 3 thousand. Only in the city of Meriwan in Rojhilat Kurdistan, 12 people were killed and 60 injured.
Threats from regime forces
The Iranian regime has began to work in order to find solutions to the demonstrations. While the Iranian Parliament decided to convene and discuss the unrest, statements from representatives of military and semi-military civilian forces and executives have been issued threatening demonstrators.
The Spay Pastaran forces known as Revolutionary Guards said in a statement that "foreign powers" are behind the demonstrations in Iran, and argued that the United States, Israel and the family of the deposed Iranian Shah Reza Pahlavi are involved. The statement stressed that Spay Pastaran's forces were ready to act with the security forces to suppress demonstrations.
A threat against demonstrators also came from Ayatollah Lutfullah Dejkam, the Iranian religious leader Ali Khamenei's representative. "If the Fars State Security Council fails to stop the demonstrators tomorrow, we will go to the streets in Shiraz with militia forces (Besic)," Dejdam said.
According to the Iranian Students News Agency (ISNA), Dejkam also think that the demonstrations are fed from outside.