Pro-Turkish forces pillage Afrin after taking the city: Reports
AFP reported that "Turkish-backed Syrian fighters" loot shops after seizing control of the northwestern Syrian city of Afrin from the Kurdish People's Protection Units (YPG) on March 18, 2018.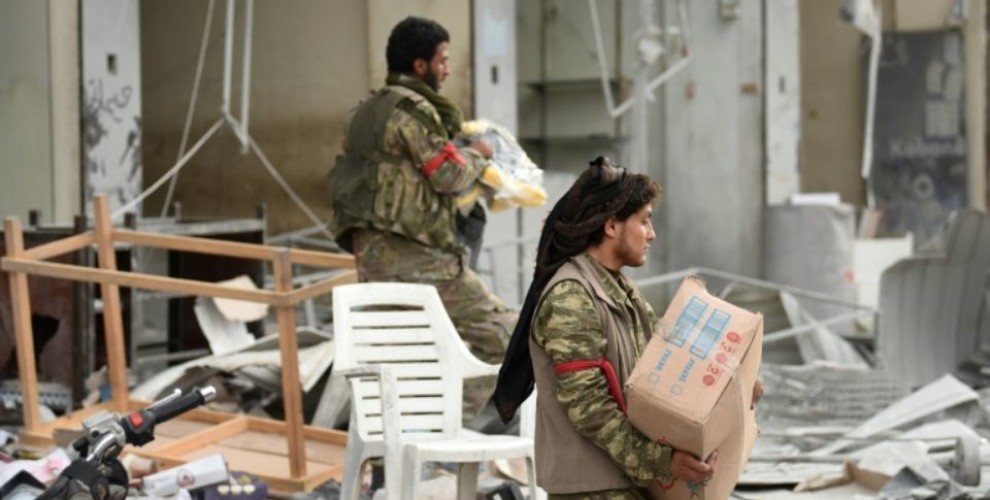 Syrian Turkish-backed forces went on the rampage in Afrin on Sunday, pillaging shops and homes after taking control of the northern city, AFP correspondents and a monitor said.
After chasing Kurdish fighters from Afrin, the pro-Ankara fighters broke into shops, restaurants and houses and left with foodstuff, electronic equipment, blankets and other goods, the correspondents said.
They placed the loot in cars and small trucks and drove them out of the city, they added.
The Britain-based Syrian Observatory for Human Rights war monitor confirmed the reports, saying Turkey's Syrian allies "have begun pillaging private property, political and military sites and shops".
A resident of Afrin told AFP earlier in the day that he had seen the pro-Ankara fighters breaking into shops to loot what was inside while others stole cars that had been parked on the streets.
Some fighters also set fire to shops that sold alcoholic beverages, an AFP correspondent said.
According to AFP, a statue of Kurdish hero Kawa, a symbol of resistance against oppressors, was torn down as Turkish forces and their allies fanned across the city and fired into the air "to celebrate their victory".