Preparations underway to open the schools in Tabqa
The Education Committee of Tabqa Civil Council plans to open schools by September. Arrangements are well underway to meet the time limit.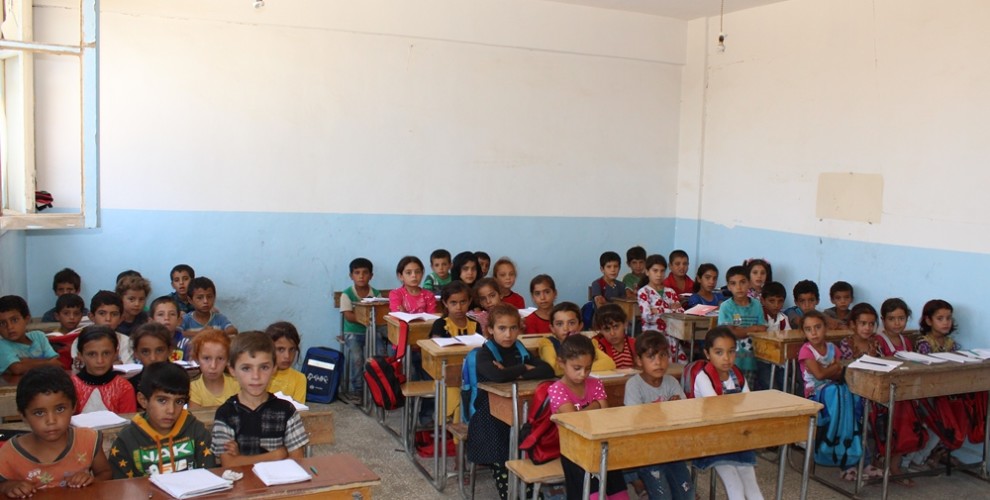 The Education Committee of Tabqa Civil Council plans to open schools by September. For that purpose, the committee visited the schools and started to register the names of the teachers that will serve in the new session of 2017/2018.
According to rough estimations, thousands of pupils from Tabqa do not know to read and write well, due to the last 6 years of war that disrupted the education and training. Tabqa Civil Council's Education Committee has now started to take necessary steps for the opening of the schools.
From 2012 onwards, Tabqa's schools had been under the control of ISIS and used as military bases and training camps for children before Syrian Democratic Forces (SDF) liberated the city on 10 May 2017. Most of those school buildings were reduced to a rubble after the gangs detonated their explosives in the schools.
4 schools in Tabqa have been completely razed to the ground, according to Xanim El-Ferec, executive member of the Education Committee, who talked about the efforts undertaken by the city's Civil Council. "We have inspected the schools in Tabqa, El-Cirniye and El-Mensûre, and laid the final touches to ready everything for the next session in September."
That, he stated, is made possible thanks to the voluntary service of a number of teachers, in educating new teachers and preparing the curriculum for the coming session, coordinated with Tabqa Civil Council.
El-Ferec also recalled that refugees had to be accommodated in schools, and said: "Because most of the schools house refugees, the Education Committee will constantly check which schools will be suitable in the course of time to be reopened for the coming sessions."
According to the Education Committee executive member, 5 schools are completely readied for this session.
"We give our all to make sure that the whole school program can continue as planned. There are already 5 schools ready to be opened in Tabqa alone, and some others also in the settlements of al-Esenoberî, Ibin Zeydûn, Qurtibe, al-Qadisiye, Fayiz Mensûr and Kindî."
The lessons range from elementary school to grammar and secondary school, and will be taught by new cadres of teachers and experienced ones as well, who all have the possibility to take place in the new education system.
By now, 60 teachers that have enrolled their names at the Education Committee will be teaching the upcoming session, but the doors are still open for new entries.
The means may be very limited, but Tabqa's Civil Council is determined to prepare the ground for children to have immediate access to school education.