Activists urge police to act on Tosun Grey Wolves salute
Police urged to act after Cenk Tosun reported for hate crime over Grey Wolves salute.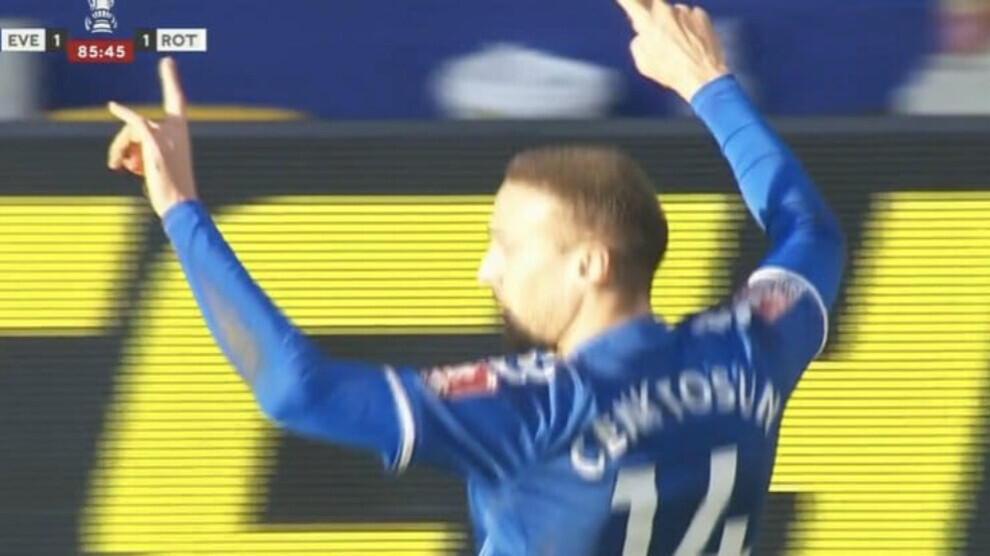 Turkish international footballer Cenk Tosun has been reported to police in Britain on hate crime charges as the country's football authorities said the Everton striker had "no case to answer" after flashing a Grey Wolves salute on Saturday.
The Football Association's anti-racism credentials was said to be laying in tatters after it ruled out action over the fascist gesture which was clearly seen by millions of viewers watching the FA Cup tie with Rotherham United at Goodison Park.
It said after reviewing the celebration that there was no case to answer, seemingly satisfied with Tosun's explanation that he was "pointing to the sky" and not making the Grey Wolves salute.
Kurds have reacted angrily to the decision describing it as a slap in the face for the thousands of victims of the far-right Sunni Islamist group, which has been responsible for attacks, massacres and executions in Turkey and Europe.
It is known that at least one complaint has been made to Merseyside Police demanding Tosun is charged with a hate crime for the racist hand gesture made towards the end of the match at Everton's Goodison Park stadium.
The complainant, a Kurd originally from Dersim said the actions of the FA told "thousands of victims of the Grey Wolves that their experiences are not important to them" accusing the footballing body of only being prepared to deal with certain types of racism.
"Racism within football has been a big issue for a long time and, if the FA are serious about ridding the game of this parasite, then Tosun must also be dealt with accordingly," they said.
"Had this salute been a more recognised one, a nazi salute, what would have they done? Would the FA have turned a blind eye then too? Are Armenian, Kurds , Alevi and Greek lives not as important as others" they added, highlighting the slaughter of Greeks in the 1950s and the 1978 Maras Massacre of Alevi's
Kurdish groups called for firm action against Tosun earlier this week, however Everton were quick to dismiss claims of racism seeming to believe their striker's version of events. The 29-year old initially denied knowing who the Grey Wolves were.
Everton fueled anger when instead of issuing an apology or statement on the incident it published a puff-piece praising the striker which it posted on social media in what was seen as a sales pitch for potential new clubs.
Critics have suggested that the Premier League club may have a more mercenary reason for dismissing the charges as it looks to offload the underperforming Tosun who has disappointed since he signed from Turkish side Besiktas for £27 million in 2018.
An FA ban would make a transfer less likely and his value would drop if he was tarnished as a racist with clubs less likely to want him on their books. Britain's Premier League transfer window closes at 23:00 GMT on February 1 meaning any FA ban would be borne by the new club.
The refusal of the FA to take action against Tosun is the latest incident where the governing body is deemed to have allowed the perpetrators to escape punishment. 
In 2019 the FA failed to take action after Crystal Palace goalkeeper Wayne Hennessy was photographed making a nazi salute with his hand over his mouth imitating a Hitler moustache.
The 32-year old Welsh international claimed not to know what a nazi salute was and said he was waving to the photographer and used his hand to make his voice carry as he asked him to take the picture. The FA believed him.
Everton has yet to comment on the latest developments.