"Paris killings must not remain a state secret"
A rally in front of the French Ministry of Justice in Paris has called for the lifting of state secrecy regarding the investigation into the murders of Sakine Cansız, Fidan Doğan and Leyla Şaylemez.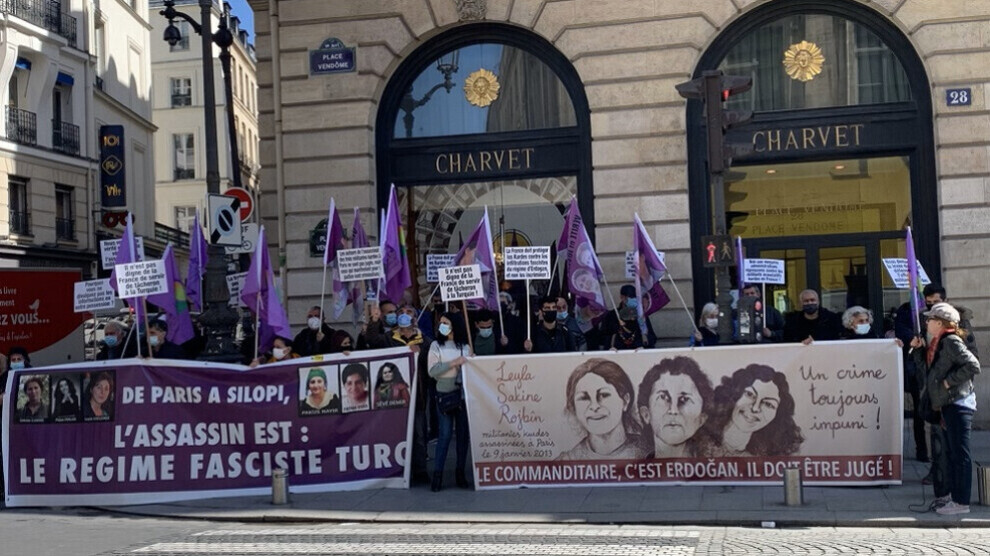 The Democratic Kurdish Council in France (CDK-F) held a rally in front of the Ministry of Justice in Paris to demand that those responsible for the murder of Sakine Cansız, Fidan Doğan and Leyla Şaylemez finally be charged. The three Kurdish revolutionaries were shot dead by the Turkish intelligence agency MIT in January 2013, and the trial of the assassin was halted after he died in custody under dubious circumstances shortly before the trial began. At the urging of the families of the murdered women, a new investigation has been launched in which there has been no progress to date.
"The murderers are known, the file must not be treated as a state secret," demanded the activists at the rally. "In the investigations so far, it has been clarified that the murders were organized by the Turkish MIT," a speech said. However, relevant information was treated as a state secret and not made available to the investigating authorities.
Left-wing politician Sabine Rubin of La France Insoumise (Indomitable France) called the murders a "black spot" in France that must be removed at all costs. The state secret must be lifted immediately, she said. In her speech, Rubin also referred to the fight against ISIS in Rojava and stated that this effort, which was largely carried out by Kurds, had benefited all of humanity and should never be forgotten.
The crowd also protested against the criminalization of the Kurdish movement in France. On Tuesday, apartments and a Kurdish association were searched simultaneously in several cities, and twelve people were arrested for unknown reasons.
Former HDP deputy Mehmet Emin Adıyaman said in a speech that it was no coincidence that an operation against Kurds was taking place in France while a ban on the HDP was underway in Turkey. The Kurds should no longer be made a pawn in international politics, the exiled politician said, calling on the French government to clarify its position toward the Kurds.
Leaflets were distributed parallel to the speeches. The rally ended with the slogan "Truth and justice!".
RELATED NEWS: