March against international conspiracy in Greece enters second day
The march of Kurdish activists in Greece against the conspiracy is continuing on its second day.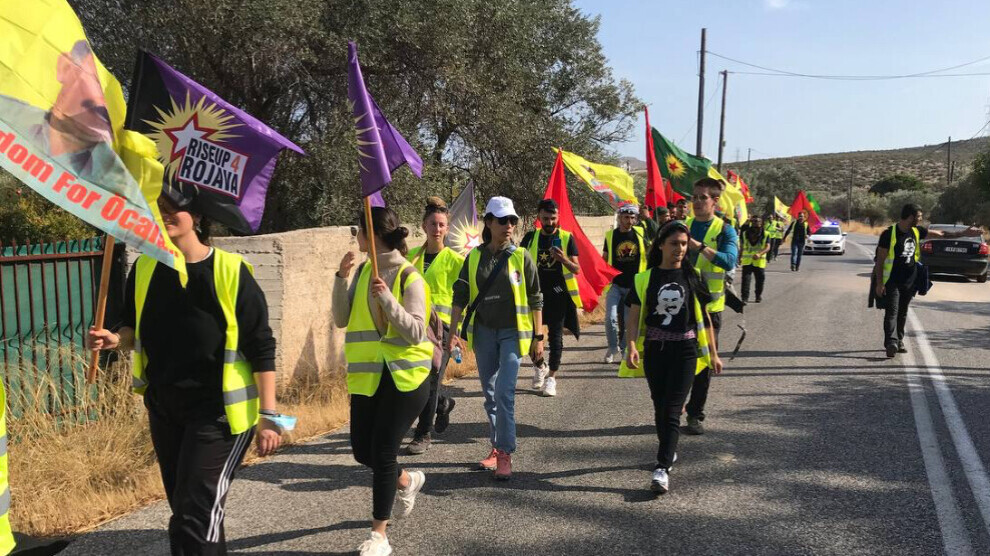 October 9 marks the anniversary of the forced departure of Kurdish leader Abdullah Öcalan in 1998, which led to his abduction and imprisonment on Imrali. This event is known as an "international plot" due to the leadership of the United States and European countries.
A three-day march was launched yesterday by the Kurdish youth in Greece under the leadership of the Revolutionary Youth Movement (Tevgera Ciwanên Şoreşger, TCŞ) and Kurdistan Cultural Centre to condemn the international conspiracy against Kurdish leader Abdullah Öcalan.
The young activists, who came together in the camp of Kurdish refugees in the city of Lavrio with a banner reading "Down with the October 9 Conspiracy, freedom for Öcalan" and under the motto "Stop isolation, fascism and occupation! Freedom of Öcalan!", stopped over in Marco Polo town yesterday evening.
The young activists frequently chanted the slogans "Bijî Serok Apo", "Bê Serok Jiyan nabe" and "Jin Jiyan Azadi" and performed the Kurdish traditional dance 'govend' throughout the night. They started the second stage of the march in the early morning hours and they are set to reach the city of Peyaniya in the evening. 
The march is continuing with great enthusiasm.