Many European cities protest against Turkish attack in Shengal
Actions across Europe to condemn Turkish state attack on Shengal.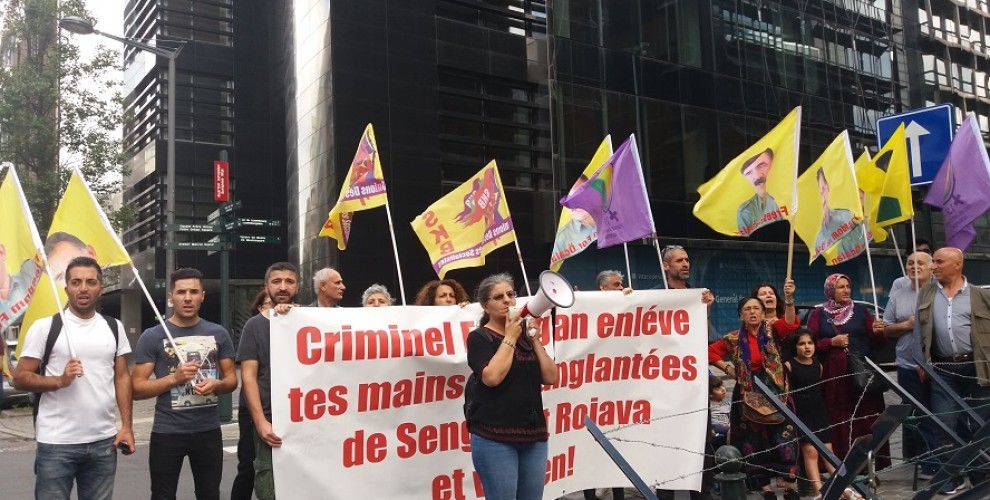 The attack of the Turkish state against Shengal and the murder of Zeki Şengali have been condemned with rallies and actions by Kurds all over Europe on Friday. 
More demonstrations and actions are planned for today, Saturday. 
In the city of Liverpol in England, the Northwest Kurdish People's Council organised a protest in the city centre. Kurdish people marched against the Turkish state attacks.
Speakers underlined how the attacks on Shengal on 15 August are in fact a continuation of the Yazidi people massacre carried out by DAESH in 2004.
MELBOURNE
Martyr Zeki Şengali was commemorated in an event organized by the Kurdish people living in Melbourne, Australia, at the Democratic Kurdish Community Center (DKTM). 
NAV-KURD co-presidents Süleyman Ateş and Hilal Canpolat talked about Şengali's life and his commitment with the Kurdish Freedom Movement and the Yazidi people. 
A call was made to join the protest action scheduled for Saturday in Melbourne city center at 1 pm.
BRUSSELS
Atakan Mahir, the HPG commander martyred in Dersim and Zeki Şengali, who was martyred in Shengal, were commemorated in an action which took place on Friday in front of the Turkish Consulate. The action was promoted by the DKTM and Martyr Beritan Women Council. 
BREMEN
NEV-YEK, the Bremen Kurdish Democratic Society organised a protest in Bremen. The actions was supported by Said Kürdi Mosque.
People who gathered at the protest asked the Iraqi and Kurdistan Regional Governments to take a clear stance against the attacks by the Turkish state. 
A new protest will be held in Bremen today, Saturday, at 4 pm.