Long march against isolation from Basel to Strasbourg
Many Kurds and their friends in Switzerland and France are preparing to march from the city of Basel to Strasbourg, and demand 'Remove the isolation, defeat fascism, and free Kurdistan'.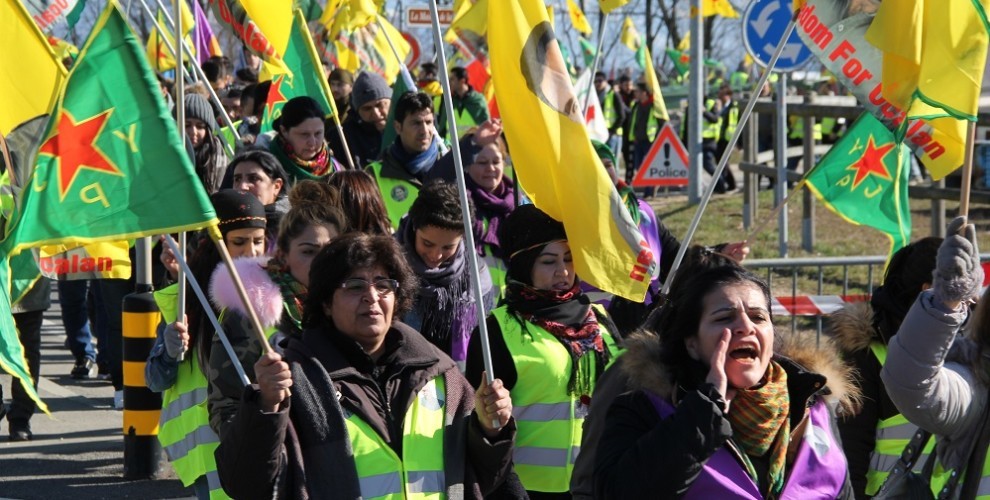 On the 20th anniversary of the international conspiracy against Kurdish People's Leader Abdullah Ocalan, more than 150 people, including politicians, representatives from different organizations, artists and prominent figures will stage a march between 9-15 February from the Swiss city of Basel to the French city of Strasbourg to protest against Ocalan's isolation, Turkish state fascism, and demand freedom for Kurdistan.
The long march organized by the Democratic Kurdish Society Congress in Europe (KCDK-E) is planned to kick off at 11am on February 9 in the city of Basel following a demonstration to be joined by thousands of people.
Along with more than 150 of the activists who will march from Basel to Strasbourg, many Kurds and their friends will join the first of day of the event in Switzerland.
Newroz Serhat, member of the preparatory committee and the Kurdish Women's Movement, spoke to the ANF about the march, and stated that all technical preparations have been completed.
Serhat noted that the march is of great importance and meaning as it is organized at a time when a mass hunger strike campaign is protesting the aggravated isolation of Ocalan. She pointed out that the ongoing resistance will be strengthened with the long march which will be led by a number of prominent individuals. Serhat noted that the main goal of the 7-day march is to break the isolation of Ocalan and demand freedom for the Kurdish leader.
March during the day, activities in the evening
Newroz Serhat said that the march will be taking place in the center of the cities located on the route. The march during the day will be followed by cultural activities as well as panels on isolation and the current political process in the evening.
Serhat stressed that the march was aimed at achieving results against the isolation and continued; "The first and foremost demand of the march is Ocalan's physical freedom. As clearly put in the motto of the march, our goal is to ensure an end to the Imralı isolation and create conditions of living with free Leader in free Kurdistan. We are trying to let the international community know about these demands and draw their attention to the hunger strike campaign."
'The international silence should be broken'
Newroz Serhat emphasized the critical conditions that the hunger strikers are in, and said: "Our march will be a part of the existing resistance. Particularly Leyla Guven, all of the activists on hunger strike are at a critical state. The resistance continues with an unwavering determination, yet there is a massive silence within the international community. One of our goals in this march is to break this silence. We are aware of the roles that international powers have played in the February 15 International Conspiracy, or for the isolation that has continued for 20 years now. The Kurdish people are resisting in all parts of their homeland, and undermine the plans of the dominant powers."
'Kurdish people resist for their freedom'
Newroz Serhat mentioned that Guven's hunger strike has now exceeded the borders and gained an international dimension. She added; "The world is once again witnessing the resistance of the Kurdish people led by Kurdish women. Through our march, we will be supporting this resistance, and demand the freedom of our leader. As comrade Çiyager said: "No matter what, the end it will be glorious!"