Kurds in Britain on hunger strike in London
Kurdish people worldwide have started solidarity hunger strikes with an imprisoned Kurdish MP who is on a life and death mission for peace following the years of the Turkish government's brutally repressive policies towards the Kurds.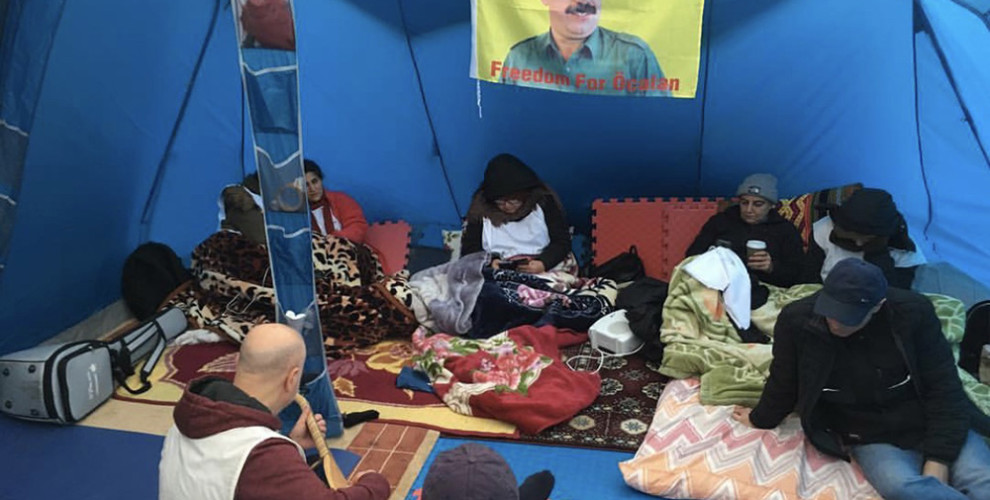 In London the Kurdish community has started a hunger strike at Manor House.
Kurdish MP for Hakkari, Leyla Güven, imprisoned for making statements against the Turkish government's invasion of Afrin, stated at the beginning of her hunger strike in Diyarbakir's notorious prison: "I greet you all with respect in the spirit of resistance of Amed dungeon (Diyarbakir prison). We know that it is possible to build a system in which all identities and beliefs can live freely in these ancient lands that have cradled the birth of humanity. We know that the existing ruling systems only serve their own masters. This is a system that is standing only by war and destruction. In order to live in a world without war and without exploitation, we must take strength from our struggle and resistance."
 Leyla Güven stated that one of the reasons for war and chaos "is the Kurdish question remains unsolved and ignored. I think that Mr Öcalan is making a great effort for the democratic and peaceful solution of the Kurdish question. Mr Öcalan's solution proposals and ideas provide an important perspective not only for the Kurdish question, but also for the Middle East… I am willing to do something against this isolation regime [against Öcalan] that is crime against humanity. I know this is the demands of millions… I kiss the hands of all the mothers, Peace Mothers, Saturday Mothers. I am aware that the days of lasting peace that they struggled for will prevail in these lands. I am a comrade of those who love to die for the sake of life. With these feelings, I greet you all again with respect and wish you success in your work."
Leyla Guven's lawyer Cemile Turhalli Balsak said the day before: "Today the hunger strike is on day 30. The 30th day is a critical threshold, and Leyla Guven's condition is reaching critical levels. She has severe vertigo and she has lost a lot of weight. She is having symptoms like forgetfulness and difficulty speaking. She had been hospitalized after health issues she had in another hunger strike in prison in 2012, and the tests done there revealed a tumour in her brain. She has to be on constant medication, but she can't take her medicine as she is on a hunger strike.".
Kurds worldwide have started hunger strikes in solidarity with Leyla Güven. In London the Kurdish community has started a hunger strike at Manor House.