Kurdish youths in Germany and France demonstrate for Öcalan
Kurdish people living in Europe continue their activities in protest at the isolation imposed on Kurdish People's Leader Abdullah Öcalan by the Turkish state.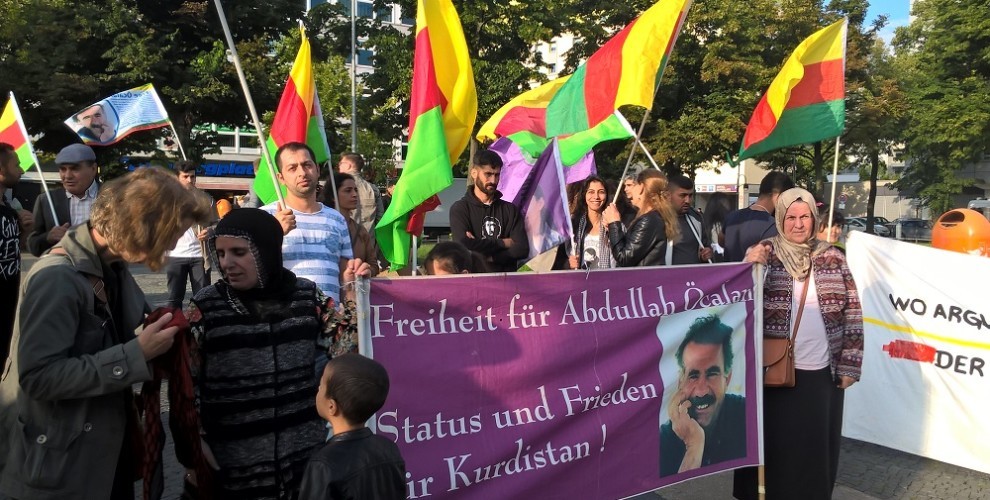 Kurdish people living in French capital city Paris and the German cities Hannover and Berlin organised activities demanding freedom for Kurdish People's Leader Abdullah Öcalan.
FRANCE - PARIS
To condemn the aggravated isolation on Kurdish people's leader Abdullah Öcalan, Martyr Zinar Raperîn Youths Council organised a rally in Paris' suburb Corbeil, within the scope of the youths' campaign "Azad Bike" (Make Free).
The activists made a press statement in front of the Corbeil municipality informing the public on the current situation of the Kurdish leader, and started thereafter a march through the most lively streets of Corbeil with banners and placards.
GERMANY – HANNOVER
Kurdish youths rallied in Hannover with the motto "Freedom for Öcalan, status for Kurdistan" and condemned the aggravated isolation imposed on the Kurdish leader.
After a minute of silence for the martyrs of the revolution in Kurdistan and the whole world, Democratic Kurdish Society Center (NAV-DEM) Co-chair Tahir Koçer stated in his speech, that the Kurdish people have no patience anymore and demand the immediate release of Öcalan, and called on everyone to stand up for Öcalan's freedom.
Julîan Dirêj of Bunthausen expressed thereafter support to the Kurdish youths' activities throughout Europe and stated that these are necessary for the freedom of the Kurdish leader.
GERMANY - BERLIN
Upon the initiative of women and youths, Kurds living in Berlin gathered at Wittenbergplatz Square in front of the historical Old Church, and staged a march until Uhland street to protest the isolation imposed on Öcalan.
As they marched, the mass carried posters and banners demanding freedom for the Kurdish leader and chanted slogans as "There is no life without Öcalan" and "The freedom of Öcalan is the freedom of Kurdistan".
The demonstration was met with great interest by tourists and Berlin's residents.