Kurdish parties form election alliance under the umbrella of HDP
Kurdish political parties that have formed an election alliance under the umbrella of the HDP pointed to the importance of national unity.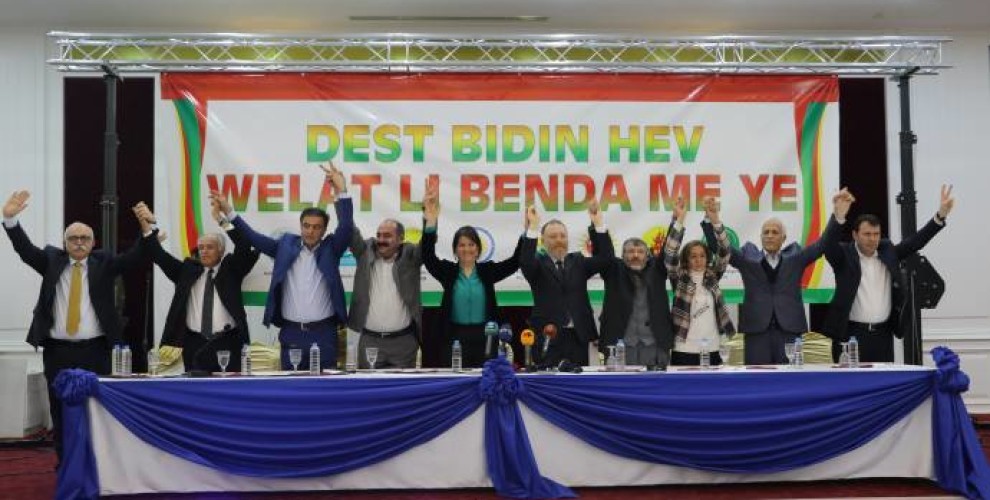 Kurdish political parties have formed an alliance under the umbrella of the Peoples' Democratic Party (HDP) for the local elections to be held on March 31. The Azadi Movement, Democratic Regions Party (DBP), Revolutionary Democratic Kurdish Association (DDKD), Human and Freedom Party, Kurdistan Communist Party, Platforma Demokraten Kurd (PDK) and Kurdistan Democratic Party-Turkey (PDK-T) are members of the alliance.
The agreed upon text for the accord was declared in a press statement held in Amed with participation by chairpersons and co-chairpersons of the parties in the alliance. 
MESSAGES FROM PARTY LEADERS
Party leaders spoke in the meeting and pointed to the importance of the alliance.
DBP Co-chair Mehmet Arslan said he is "hopeful that this step will be an important step in the Kurdish people achieving national unity" and added: "We will prevail!"
Kurdistan Communist Party (KKP) Chairperson Sinan Ciftyurek said they "are witnessing a historic day" and added: "This is a small step, but big steps start with small ones. This small step will grow with all of us together."
Ciftyurek also pointed to DTK Co-chair and HDP Hakkari MP Leyla Guven and said: "Leyla Guven has been on a hunger strike for 61 days for a democratic right. We are calling on the Turkish government that Guven's demands should be accepted.
Nesrin Asgar spoke in the name of the DDKD and said: "Coming together is a start. It will bring about advances and success. We must learn to produce together. The local elections are a start to produce together and act together. We believe any and all efforts are valuable. We favor the alliance expanding to the parties that are not in yet."
Azadi Movement Spokesperson Ayetullah Asiti stressed the importance of Kurds marching together to achieve victory and said: "Because that is how our history and our religion Islam says should happen. Like every nation, we want a dignified life."
DTK Co-chair Berdan Ozturk also spoke about Leyla Guven, who has been on a hunger strike to end the isolation imposed upon Kurdish People's Leader Abdullah Ocalan: "We will fight until we achieve freedom. We will break the isolation through our struggle."
Human and Freedom Party Chairperson Mehmet Kamac said the alliance between Kurdish parties for the local elections will pave the way for a common and civilized step in the Middle East.
PDK-T Chairperson Mehmet Emin Kardas said, "We are aiming to take the municipalities that show the will of our people in the local elections as we come together under the HDP umbrella. We must form a table after the election and carry an alliance into the future within the framework of principles for our people."
HDP Co-chair Sezai Temelli gave the last speech in the meeting.
Temelli said they are witnessing a historic moment: "This is a historic moment, because it is an election alliance but it is so much more than that. It is very important to put forth this will despite animosity against Kurds and the policies enacted in all 4 lands. I believe this alliance will grow and advance in the future."
Temelli continued:, "On March 31 we will be taking an important step. Following local democracy, a great democratic transformation will commence. For democracy in Rojava, Afrin and all the lands, we must increase our struggle."