Kurdish journalists and media workers against Turkish genocidal war in Kurdistan
Journalists and media workers from Kurdistan held a press conference in Brussels against the genocidal war of the Turkish state against the Kurds.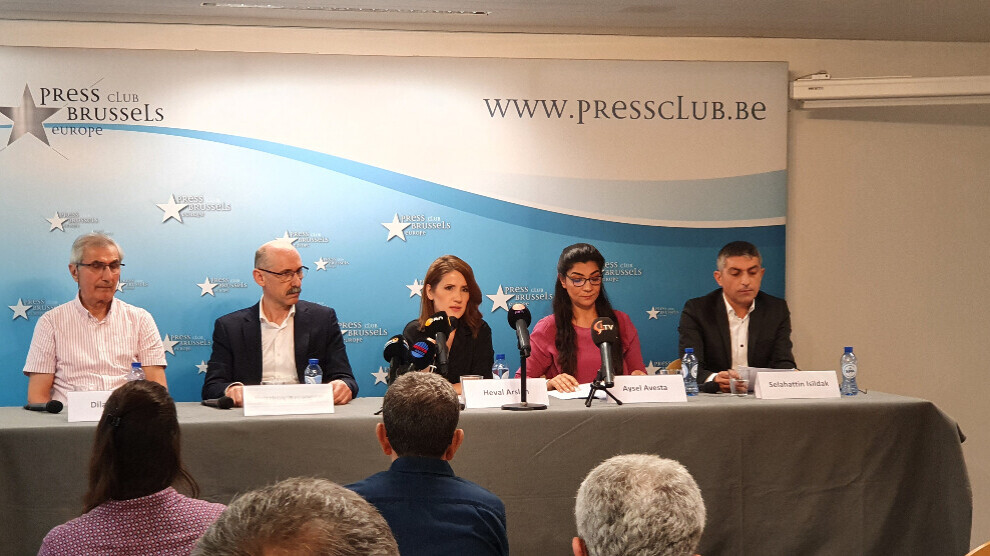 A group of journalists and media workers who represent dozens of media outlets in four parts of Kurdistan, European Union countries and the Russian Federation held a press conference at the Press Club Brussels Europe.
Denouncing the ongoing Turkish war of genocide against the Kurds, the statement slammed the silence of the European and world press.
The journalists urged NATO and EU member states to cut their military, political and economic support to Turkey and not to be a party to the Kurdish genocide. They also called on the European Union and all their colleagues in the world to be more sensitive to the Turkish state's war of genocide.
Dilar Akravi, Hiwa Aryen, Heval Arslan, Aysel Avesta and Selahattin Işıldak representing the signatory journalists read out the press release in Kurdish (Kurmanji-Sorani), English, French and Arabic.

The joint statement, signed by around 400 media workers, includes the following:
"The Turkish state is waging a genocidal war against the Kurds both inside and outside the country's borders.
On April 17, the Turkish Armed Forces launched a large-scale attack against areas of Southern Kurdistan,  or the Kurdistan Region of Iraq. These areas, known as the 'Medya Defence Zones', are under the de facto control of the Kurdistan Workers' Party.
This attack is also taking place with the full approval and logistical, military and intelligence support of the Kurdistan Democratic Party or KDP, which controls the government in the Kurdistan Region of Iraq.
The mountains of Kurdistan have been bombarded by warplanes for months. Land and air attacks are carried out against North and East Syria every other day, while assassinations are regularly carried out by drone strike, often killing and injuring civilians and political leaders. The Turkish army does not hesitate to use weapons prohibited by international conventions, including chemical weapons, during its attacks against the Kurds.
The Turkish state has invaded and occupied large swathes of territory in North and East Syria. It has killed hundreds and displaced hundreds of thousands of civilians from the Afrin, Jarablus, Azaz, Bab, Gire Sipi, and Sere Kaniye regions, in a policy of forcible demographic change. The proxy militias Turkey has installed in these regions include former members of ISIS, al-Qaeda offshoot Jabhat al-Nusra and other salafist-jihadist organisations.
The Turkish military aims to destroy Kurds' progress toward self-determination, democracy and the protection of their fundamental rights in both Southern Kurdistan and North and East Syria.
In particular, it aims to complete the genocide left unfinished by ISIS in Sinjar or Shengal, the homeland of the Kurdish-speaking Yazidi religious minority who were subjected to an internationally-recognised genocide by ISIS beginning on 3 August 2014.
The Turkish state is turning the new global reality that has emerged due the Ukraine war into an opportunity to conduct a programme of ethnic cleansing against the Kurds.
In Turkey, heavy state repression is being conducted against the Kurdish people and anyone who advocates for peace, democracy and freedom. Thousands of Kurdish politicians, intellectuals, women, journalists and human rights defenders have been jailed without due process.
NATO and European Union member states remain silent in the face of the recklessness of the Turkish state. The public in Kurdistan sees this silence as constituting support for the genocide of the Kurdish people, and this support provokes justifiable reactions.
Like every other people, the Kurds have the right to live freely in their own land and freely determine their future.
To the international press
It should not be forgotten what the world owes to the Kurds. The Kurds waged a relentless struggle against ISIS, which is a global scourge. The terror group not only sought to overrun Iraq and Syria, but was responsible for bloodshed in global centers such as London, Madrid, Paris and Brussels. Tens of thousands of Kurds died in this war so that the world could be safe from the ISIS threat.
The European and world press are silent in the face of the crimes against humanity committed by the Turkish army against the Kurds. This silence encourages the Turkish state to commit more crimes and to continue its forcible ethnic cleansing and repression of Kurdish populations.
For this reason, we, as the undersigned journalists and media personnel;
Strongly protest the war of ethnic cleansing being waged by the Turkish state against the Kurds.
Condemn the KDP, which is a partner in the ethnic cleansing being conducted by the Turkish army, and call on the KDP to abandon this collaborative attitude which is to the detriment of the Kurds and all peoples of the region.
Call on NATO and European Union member states to cut their military, political and economic support to Turkey and not to be a party to Turkey's war against the Kurds.
Ask the European Union and all our colleagues across the world to be more sensitive to the Turkish state's war against the Kurds and to convey to the public the truth of what is happening in Kurdistan."
Signatories:
Barış Abbasoğlu, Kozhiar Cemal Abdulla, Hawas Ablou, Elî Aesen, Arian Ekram Ahmad, Tewar Adel, Karzan Alî, Hikmet Aslan, Emin Aslan, Fuat Ateş, Turaj Asperi, Daban Ayub, Rebun Aka, Mizgîn Akman, Nuri Akman, Saburov Ali, Yusuf Alkan, Rahşan Aksoy, İsmet Akurt, Derav Ala, Hacer Altunsoy, Dewrim Alp, Vera Andreevna, Heval Arslan, Devrim Arslan, Nurdoğan Aydoğan, Aysel Avesta, Mücahit Avras, Ebru Aydın, Fatma Gulçiçek Ari, Aslan Aslan, çalak Arbaba, Diler Akrei,  Mihemed Badilî, Bayram Balcı, Barış Balseçer, Barış Barıştıran, Murat Bakur, Firaz Baran, Xeyrî Baran, Harûn Baran, Afat Baz, Halil Baysoy, Amara Bawer, Şnyar Bayaz, Barış Boyraz, Azad Bayîz, Amanc Bekir, Hêro Behadîn, Rêbîn Bekir,  Keser Buldan, Serhat Bucak, Mahsun Budak, Haki Bulut, Duygu Bozkurt, Emrullah Boztaş, İbrahim Bulak, Mihemed Hemûd Cefa, Dilyar Cizîrî, Cahide Bulut, Ceren Ceylan, Kozhiar Cemal, Zinar Bekrî Cafer, Hannah Chomani, Hüseyincan Berkant Ceylan, Ciwanaa Cimaa, Azad Cûdî, Kendal Cûdî, Azad Cûdî, Medya Cebe, Halil İbrahim Cengiz, Lokman Coskun, Ronahî Çetin, Ali Çelik, Alan Çeto, Hayrettin Çelîk, Kemal Çomanî, Hêlîn Cûdî, Huseyin Dag, Arzu Demir, Newroz Demhat, Leyla Deniz, Sozdar Dersim, İzzet Dersim, Bilal Dersim, Amed Dicle, Mazlûm Dîkmen, Deniz Devrim, Riyad Debax, Nazli Duman, Ceyhun Dönmez, Ridvan Doner, Dizgûnê Dewrêş, Memed Drewş,  Rodîn Çawîş, Sara Çekdar, Alan Hesen Kor Ebdo, Mîran Ebdullah, Welat Hisnî Kor Ebdo, Cîhan Erebo, Cemal Ekinci, Berivan Eminoğlu, Rolav Elî, Raperîn Elî, Cûdî Elî, Mihemed Ezîz, Mele Nadir Elî, Biryar Efrîn, Dicle Elias, Ehmed Efîf Elyunis, Hîwa Elî, Erdal Er, Füsun Erdogan, İdris Erdem, Hazhar Enwer, Dilşad Enwer, Îsa Ebdulqehar, Hêvîn Ehmed, Malwa Elî, Fadî mehdî Elxenafir, Nêvîn Yûsif Elhesen, Serbast Qane Ehmed,, Warya Husên Ehmed, Jiyan San Ehmed, Ebdullah Ehmed, Bahoz Elî, Tawana Elî, Îmad Elî, Sozyar Elî, Serbast Qane Ehmed, Warya Husên Ehmed, Hemo Fatimê, Belên Letîf Fetah, Sakar Faris,  Mihemed Eyîd Fireh, Medenî Ferho, Letîf Fatîh Ferec, Seydi Fırat, Novîn Fetho, Hassan Ghazi, Serdar Goyî, Ali Güler, Bozo Gundî, Menice Gunay, Menice Gunay, Dicle Guner, Selim Günenç, Sabahattin Gultekin, Necmettin Güven, Latife Güzel, İbrahim Gümüş, Azad Ahmet Göçer,  Lydia Gottschalk, Ranjdar Grawî, Jangin Hasan, Sale Haji, Nêvîn Al Hasan, Gulan Heyder, Şîrîn Hesen, Genco Ferhan Hesen, Kelsum Hisên, Merwa Hekarî, Sîlva Fethela Hisên, Zîn Hesen, Mazlûm Hessen, Handren Hewramî, Rojîn Loqman Hesen, Feysel Hesen, Lewend Hesen, Rêzan Hesinkar, Tuğba Hezer, Warya Husên, Rêbaz Hesen, Mihemed Husên, Payam Hosseini, Şîndar Mislim Hinko, Arnesto Îbo, Aras Îbrahîm, Bînayî Izeddin, Jîna Îsamayîl, Mûhened Îbrahîm, Fenya Igrek, Aras Îbrahîm, Deniz İke, Mahir İniz, Îsam Îsa, Jiyan Îsa, Miroev Ishkhan, Selahattin Işıldak, Veysel Işık, Fehim Işık, Evîn Îbrahîm, Merva Îlyas, Laleş Ebdulrehman Îbrahîm, Awaz Îbrahîm, Robin Jan, Yilmaz Kaba, Ahmet Kahraman, Süleyman Kalender, Karox Kamran, Serdar Karakoç, Nazik Kêtkanî, Muhammet Kaya, İsmet Kayhan, Karamanov Kadir, Ismet Kem, Olcay Kızılpınar, Berîvan Kemal, Lava Kurda, Karzan Kelhorî, Bêron Ferhad Kerîm, Muhsîn Kerîm,  Alan Meîş, Evîn Mêrdîn, Tahir Kara, Viyan Karahan, Leyla Kobanê, Meral Kuçuk, Lezgieva Kurdistan,  Rojbin Masho Kurt, Filiz Koçali, Dilar Rojen Kok, Berhem Letîf, Avêsta Lawlaw, Mihemed Letîf, Nêçîrvan Letîf, Mgoyan Liana, Elî Malatya, Mustafayev Mammad, Ertuğrul Mavioğlu, Renda Mecîd, Ayhan Metîn, Cahit Mervan, Xelîl Mêrxas, Şivan Mêsî, Ciwan Mistefa, Arjîn Fatimê  Medya, Aram Malekşa, Shuan Mariwan, Sasan Mehrabî, Farman Mohammed, Warya Mohammadi, Chawan Latif Mohammed, Hîwa Gul Mihemedî, Suren Mihemed, Mihemed Mehmûd, Darya Mihemed, Hawar Mohammed, Yasîn Mihemed,  Salar Mehmûd, Ako Mejid, Lavîn Mehmûd, Aysel Hacî Mehmûd, Asûda Mihemed, Tawana Mistefa, Nêçîrvan Letîf Mihemed, Mihemed Letîf Mihemed, Hemo Salih Medya, Sozê Mexmûr, Fewaz Mihemed, Mheme Hisên Murad, Allo Mussa, Fatma Cesas Mûrad, Awaz Mihemed, Raperîn Mihemed, Îmad Mihemed, Lezgîn Mihemed, Jiyan Mihemed, Ebdulreşîd Mihemed Mihemed, Deysam Ahmed Mihmed,  Ebdulcebar Welîd Mihemed, Kendal Mihemed, Ebdulmuhsin Mihemed, Nêçîrvan Letîf Mihemed, Tirê Mehmud, Tuwana Mistefa, Zana Mistefa, Mîran Sabir Mihemed, Mihemed Mehmud, Karwan Mihemed, Hewar Mihemed, Derya Mihemed, Emîr Mihemed, Hadî Muradî, Lawî Mihemed, Delîl Faris Murad, Mohammed Mustafa, Roştiyam Munzur, Avan Nader, Aras Nizami, Avan Nadir, Evîn Nesrîn, Hogir Necar, Eduard Namoyan, Suna Tunç,  Ramazan Olçen, Meltem Oktay, Celal Önen, Behre Omer,  Avesta Osman, Ayfer Ozdogan, Mihemed Osê, Hebûn Omer, Azad Osman,  Dilcan Osman Oso, Ehmed Elae Osman, Hebûn Ebdulezîz Osman, Cihan Özgür, Ezgi Özer,  İnan Özel, Uğur Özalp, Elena Petrovna , Rêwî Rêdûr, Kemal Rewf, Hesen Remo, Delîl Mihemed Remo, Ronahî Reşîd, Karox Kamran Resûl, Karox Resûl, Sinûr Rehman, Cîdad Roj, Evin Roni,  Cudî Ronahî, Zeki Rüzgar, Veysi Sarısözen, Medî Sevgat, Faruk Sakık, Arif Selîmî, Efser Serhanoglu, Şêrwan Salih, Hêvî Salah, Şêrwan Sali, Jiyan San,  Semîra Seîd, Ferhad Sengawî, Mihraban Selam, Osman Ezîz Silêmanî, Hawzhin Shokur, Berşîr Salih, Duaa Seado, Estirvan Fexir silêman, Berîvan Silo, Midya Silêman, Namo Serbest, Nebez Semed, Hawjîn, Hêvî Selah, Hêrish Sîrwan, Hawjîn Şiwane, Semîre Seîd, Ciwan Şamîran, Edhem yasir Şêxmûs, Şêrîvan Hisên Şaibo, Bêrîvan Şaho, Barzan Shahsuvar, Aliko Shaboev, Ömer Sever, Mihemed Seydî, Salihe Silêman, Mahmut Seven, Mehdmûd Sîdo, Behrooz Sohrabî, Erdoğan Sürgeç, Osman Şahin, Adar Şaman, Cano Şakir, Zêdan Şaqûlî, Ejder Şêxo, Zîwer Şêxo, Rojîn Şêxo, Eylem Şoreş, Ayhan Tayfur, Gulistan Tara, Suleyman Tewil, Songul Turhal, Roger Turaut, Mahir Üzmez, Erdoğan Yener, Pervin Yerlikaya, Güler Yıldız, Arzu Yıldız , Zeynep Guner, Ülkem Zeremya, Filiz Zeyrek, Raxib Ehmed Ziyab, Ahmet Yücedağ, Şêrîn Zêrevan, Berîtan Xalid, Xalid Xelîl, Sarbast Qane , Karzan Qadir, Serwer Qeredaxî, Midya Qaşom, Kashahi Vazir, Negîn Şîxoalîslamî Watanî.