Kurdish journalist Firaz Dağ and politician Kamber Söylemez commemorated in London
Mass events were held in London to commemorate Kurdish journalist-filmmaker Firaz Dağ and politician Kamber Söylemez who were martyred in Rojava.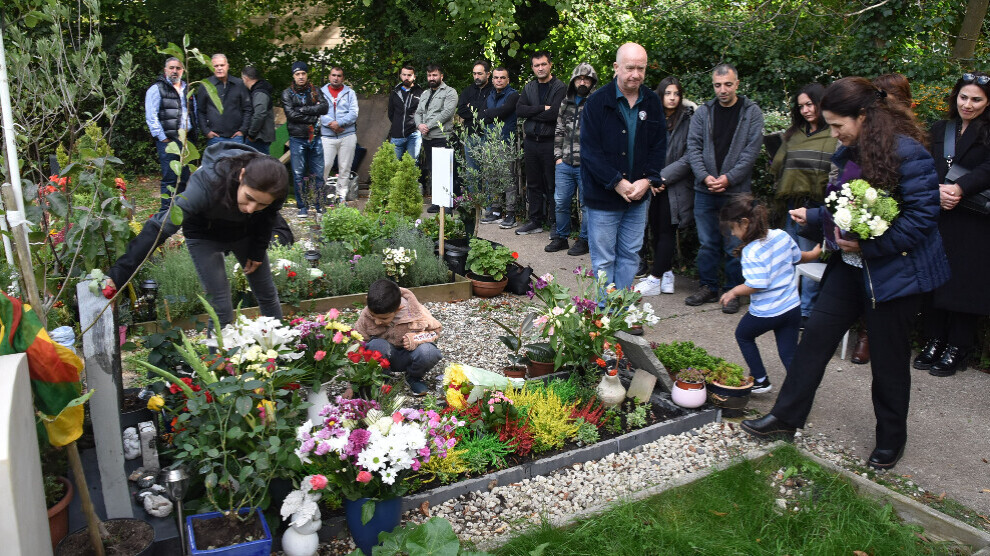 Memorial ceremonies were held in the Highgate Cemetery and Kurdish Community Center for Kamber Söylemez, a member of the Kurdistan National Assembly and TEV-DEM (Democratic Society Movement) who passed away in Rojava, and Kurdish filmmaker and journalist Mehmet Aksoy (Firaz Dağ), who fell in Raqqa on September 26, 2017.
Along with hundreds of people, Syrian Democratic Assembly (MSD) Chairperson Ilham Ehmed, politician Osman Baydemir, and representatives of the Gik-Der, MLKP and democratic mass organizations attended the commemoration events organized by the Martyr Firaz Dağ Youth Commune and the London Martyrs' Families Commission.

The commemoration held at Mehmet Aksoy's grave at the Highgate Cemetery started with a minute's silence in memory of the Rojava revolution martyrs. In a speech here, Agit Heval, Firaz Dağ Youth Commission Spokesperson, emphasized that Firaz Dağ had inspired them with his revolutionary life and stance. "Comrade Firaz, an idol of many friends, inspired us to promote equality, freedom and most importantly, a revolutionary comradeship. When the time for resistance against fascism arrived, he was at the forefront and became the greatest expression of loyalty to Kurdistan and its people. We will be Firaz's companions in every field of life and we will make his dreams come true," Heval said.
'HE WAS THE VOICE OF ROJAVA'
Speaking after, İlham Ehmed said that Firaz Dağ had embraced the Kurdish people's struggle for freedom with great efforts and devotion. "Firaz made serious efforts to make the Kurdish people's voice heard in the whole world. Despite such efforts, the Kurdish people have been subjected to large-scale massacres. We need to reach large masses to introduce the struggle and incidents to the international community. Heval (Comrade in Kurdish) Firaz played an important role in promoting the struggle and propagating our cause all over the world. Heval Firaz became the voice of all oppressed peoples. He took his place at the very heart of the revolution. He wanted to show the truth to the whole world. We once again realized his role in making the Kurdish people's voice heard in the world when he was martyred," she said.
'WE WILL REALIZE HIS DREAMS'
"He illuminates our path with his sacrifice and stance. It is our responsibility to realize his goals. We promise to make his cause, his dreams real. Heval Firaz is a martyr not only for the Kurdish people, but also all the peoples of the world who demand freedom. I commemorate all our internationalist martyrs with respect and gratitude, and we reiterate our promise to fight until emancipation," Ehmed added.
Journalist Mark Campbell talked about Firaz Dağ's contributions to the internationalist struggle and the impact Firaz had on his own life. Campbell burst into tears while talking about Firaz.
Flowers were placed on Firaz Dağ's grave and candles were lit, and participants chanted the slogan " Şehîd namirin" (Martyrs are immortal) during the commemoration.
MASS COMMEMORATION EVENT AT KCC
Numerous people attended a second commemoration held at the Kurdish Community Center (KCC) for Kurdish revolutionaries Kamber Söylemez and Firaz Dağ. Pictures of Kurdish leader Abdullah Öcalan and YPG and YPJ banners were displayed in the events hall, where people placed flowers and lit candles around the photos of Söylemez and Aksoy. After a moment of silence, biographical documentaries about Firaz Dağ and Kamber Söylemez were screened.
Kurdish People's Assembly Co-Chair Ercan Akbal delivered a speech during the event commemorating all the martyrs of the revolution. "Our martyrs made great efforts and sacrifices. Heval Kamber also contributed to the revolutionary struggle both in the Bakur (Turkey) and in Rojava (Syria) Kurdistan. Heval Kamber put up great resistance against the oppression of the fascist regime and went to Rojava following the Turkish crackdown against him. Our martyr embraced the revolutionary activities with great efforts and embodied the patriotic revolutionary struggle throughout his life. We promise to make his dreams come true," Akbal said.
Akbal pointed out that keeping Akbal's memories alive depends on embracing his struggle and realizing his dreams. He added that Akbal illuminated the paths of the martyrs of the Kurdistan revolution.