KON-MED calls on people to join rally for Öcalan in Strasbourg
KON-MED called on all Kurdish people and their friends living in Germany to attend the rally to be held in Strasbourg on Saturday demanding Freedom for Öcalan.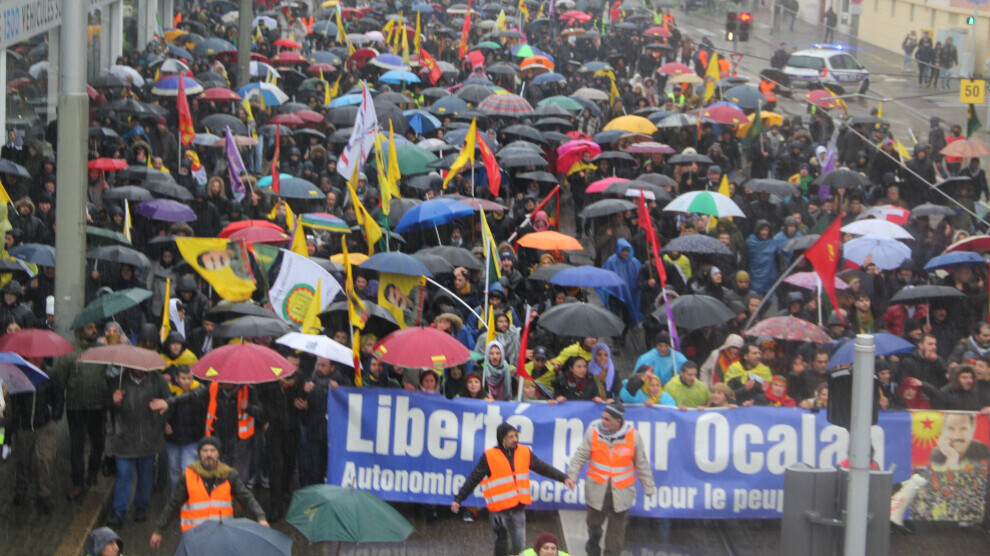 In a written statement, KON-MED called on all Kurds living in Germany and their friends to attend the central rally to be held in Strasbourg tomorrow, Saturday, with the slogan "Dem Dema Azadiyê -Freedom will be achieved - Take Action for Öcalan".
Pointing out that Kurdish people's leader Abdullah Öcalan has been kept under severe isolation and oppression for 22 years, the statement said: "We have a duty to achieve the freedom of our Leader for 22 years. We do not accept that the European Union, which is the chief responsible for the Imrali system, and the responsible institutions affiliated to it, remain silent."
The statement said: "As it is known, Leader Apo [Abdullah Öcalan] has been kept under severe isolation and oppression for 22 years. We know very well that the colonialist Turkish state for a long time wanted to break the will of Leader Apo, with the support of the imperialist states that agreed to the Imrali process. They aimed to disband the Freedom Movement and break the will of our people. In the past 22 years, they have tried in every possible way to achieve their goals. However, despite all the pressures they exerted, they could not achieve the desired result. Because they could not break Leader Apo's will. Leader Apo put forward the theoretical-historical perspective of the Democratic Nation solution against the capitalist modernity and proposed solutions for the freedom of our people and the coexistence of peoples, by utilizing very few opportunities under very difficult conditions in the last 22 years."
The statement added: "Today is the day to completely break and destroy this fascist regime. Thanks to Leader Apo's great efforts and the awareness and organization he has developed, the fascist AKP-MHP regime has reached the stage of collapse and disintegration.
We call on all our patriotic people and friends to join the rally, which will be held in front of the Council of Europe in Strasbourg, France, on October 2."